Preparing for Disaster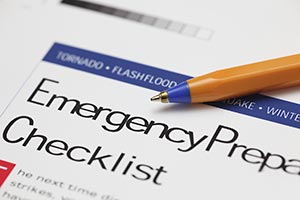 What To Do Before a Disaster Threatens
Learn how to prepare your mobile home for a storm long before it's predicted. You'll also find ideas on how to build a survival kit and a list of things to think about when you know a storm is imminent.
Checklist for Emergency Items
You may want to print or download a copy of our emergency checklist to help you organize your supplies. This list is divided by food items, non-food items, first aid supplies and items you'll need to have if there's an infant in your family.
What To Do When Disaster Approaches
You're organized. You've gotten your mobile home in shape, reviewed your lists, thought about evacuation routes. You hoped it would never happen, but now a storm is coming your way and it's time to act. Learn what to do when a disaster approaches.
How to Prepare if You Have Special Needs
If you or someone in your family has special needs, there are extra considerations to take as you prepare for a disaster. Older adults, people of all ages who have a disability, family members and caretakers can learn how to prepare if catastrophe threatens.
How to Protect Your Pets
Learn how to keep your pet safe in times of crisis.
Click here for more great articles from our Learning Center
The information contained in this page is provided for general informational purposes only. The information is provided by Foremost® and while we endeavor to keep the information up to date and correct, we make no representations or warranties of any kind, express or implied, about the completeness, accuracy, reliability, suitability or availability with respect to the articles or the information, products, services or related graphics, if any, contained in the articles for any purpose. The information is not meant as professional or expert advice, and any reliance you place on such information is therefore strictly at your own risk.