Preparing for Severe Weather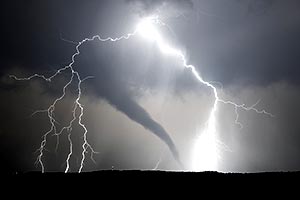 Along with flowers and warmer weather, spring can bring something that's not so pleasant — the threat of severe weather. Tornadoes, thunderstorms and windstorms can damage or destroy entire neighborhoods within minutes. Learn how to protect yourself and your family when storms strike.
Learn the Warning Signs
Nobody likes to cancel a golf game or other outdoor activity, but when weather looks threatening, remember: Put storm safety first. Before heading out, check your local weather forecast to see if a storm watch or warning is issued for your area.
Thunderstorms
The National Weather Service issues a Severe Thunderstorm Watch when conditions favor the development of severe thunderstorms. These storms can produce hail, high winds, dangerous lightning and possibly tornadoes. If you are in the watch area, keep apprised of the latest weather information, as a watch can quickly change to a warning.
A Severe Thunderstorm Warning means a severe thunderstorm has been reported or detected by radar in your area that has produced high winds, hail and dangerous lightning. Take shelter indoors and stay tuned to weather reports.
If no storm safety watches or warnings are issued and you hear thunder or see lightning, it's still best to postpone outdoor plans. If you're already outside, go immediately into a building or enclosed vehicle. Avoid water, high ground and open spaces. Don't take shelter underneath canopies, small picnic or rain shelters, or near trees. Stay away from large metal objects such as a flagpole, fence or pipe that could carry lightning to you. Suspend your outdoor activities until 30 minutes after you last see lightning or hear thunder.
If indoors, avoid taking a shower or bath. Stay away from doors and windows and don't use the telephone. Turn off, unplug and stay away from appliances, computers, TVs, headsets and power tools. Lightning could strike electric and phone lines, causing shocks to inside equipment.
Tornadoes
Tornadoes average a wind speed of 112 mph, but can produce winds from 200-300 mph. That's nearly twice the speed of most hurricanes. They can strike year-round, but most occur in April, May and June. Straight-line winds from thunderstorms often produce tornado-like damage as well, and research shows these wind bursts can occur throughout the country, sometimes without predictable signs of heavy rain, thunder, lightning or hail. If a tornado warning alarm sounds, you may have only seconds to take cover.
When outside, be aware of hailstorms, blowing debris, or the roaring "train" like sound of an approaching tornado. Tornadoes can develop rapidly and sometimes strike before warnings can be issued.
The National Weather Service issues a tornado watch when weather conditions favor the development of tornadoes. If your area is under a watch, postpone that tennis match or whatever else you had planned. Stay home and be on alert for severe weather. Prepare to take shelter and continue to listen for further weather information.
A tornado warning means actual tornadoes — funnel-shaped clouds — have been sighted nearby or detected by radar. When a warning is issued, take shelter immediately! Don't linger outside or go about your everyday business.
Remember: When a tornado warning is issued, find shelter right away and stay there until the danger has clearly passed.
Choose the Right Place for Shelter
If you're inside a mobile home, leave immediately! Even mobile homes equipped with tie-downs can be blown away by severe winds. Do not take shelter underneath a mobile home. A tornado could lift the home up and drop it on you. Instead, go to the nearest shelter.
If you live in a mobile home park, chances are you have a designated storm shelter in your park, such as an office or community building with a reinforced basement or tornado shelter. If not, go to the nearest safe structure, such as a school or other sturdy building. If there's no time, take cover in a ditch or depression in the ground, a safe distance from the home.
If you're inside a site-built or modular home, go to a basement or interior room on the lowest floor that doesn't have windows, such as a bathroom or closet. Wrap yourself in coats, sleeping bags or towels to protect yourself from flying debris. Shelter information is available at your nearest State Division of Emergency Services. Know ahead of time where you will go if storms threaten your home and family.
If you're in a car, NEVER try to outrun a tornado. They can change direction quickly and toss a car through the air. Pull off the road and take shelter in a safe building or in a ditch.
Click here for more great articles from our Learning Center
The information contained in this page is provided for general informational purposes only. The information is provided by Foremost® and while we endeavor to keep the information up to date and correct, we make no representations or warranties of any kind, express or implied, about the completeness, accuracy, reliability, suitability or availability with respect to the articles or the information, products, services or related graphics, if any, contained in the articles for any purpose. The information is not meant as professional or expert advice, and any reliance you place on such information is therefore strictly at your own risk.