Weather Safety: Plan for a Hurricane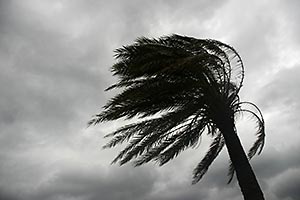 It's important to plan an emergency strategy ahead of time and talk about it with your family. Preparing ahead of time helps you avoid the panicked rushes to buy basic supplies when a severe storm threatens an area.
Prepare your mobile home and familiarize yourself with your insurance coverage. Also build a basic survival kit and make evacuation plans long before a storm hits. It's especially important to make your evacuation plans early if you or a family member have a disability or special medical needs, or if you have young children or pets that must be cared for if you evacuate your home. Prepare ahead of time by following these important safety tips.
Keep Your Mobile Home in Good Repair
Make sure your address number is clearly marked on your mobile home.
Check and secure all of your mobile home's tie-downs.
Secure any loose roofing and siding.
Trim dead or broken branches from trees.
Purchase these materials to secure your mobile home:

Plywood
Shutters and/or protective window film
Plastic sheeting
Nails

Use child safety locks on cupboards to help keep items like plates, glasses and canned goods from spilling out.
Review Your Insurance
Do you have insurance for your mobile home? You'll need coverage for the kinds of damage that you may suffer.
Most policies do not include flood, so call your insurance representative for more information. See what Foremost can offer you through the National Flood Insurance Program.
Is your personal property covered? If so, make sure you take an inventory because you'll need proof of ownership when you file a claim. Use a camera to take an inventory of both the inside and outside of your mobile home. Store the information with your insurance policy in a safety deposit box, and send a copy to a relative or friend out of the area. Update your inventory regularly.
When any kind of natural disaster threatens, most insurance companies will not issue any new policies. The time to buy insurance is before a disaster strikes… not when you hear a severe weather update broadcast over the radio.
Start a Basic Survival Kit
The key to disaster survival is advance readiness. Have all the supplies in your disaster kit in one place, check them every six months and make sure they're readily available so you can take the kit with you when you need it.
Note: The list below is a broad list and includes non-perishable items that can be stored in advance. Refer to our emergency checklist for a more detailed list of items to place in this kit.
Food. Store at least a two-week supply of non-perishable foods and special dietary foods, if necessary.
Drinking water. Have at least one gallon per person per day for two weeks.
Flashlights for each person in your family.
Portable radio and batteries.
First aid book and kit.
Two coolers. One for food, the other to hold ice.
Plastic tarp for roof or window repair, screening, garbage bags and tools.
Water purification tablets, plain chlorine and iodine.
Infant necessities, such as diapers, formula and plastic bags.
Sleeping gear. Include pillows, blankets, sleeping bags, air mattresses or cots.
Extra clothing, shoes and a spare pair of eyeglasses.
Individual Last-Minute Items to Pack
Each person in your group should have a backpack or tote bag in which to carry their own personal items. These are items that don't need to be packed in advance, but should be able to be assembled fairly quickly:
Cash. With no power, banks may be temporarily closed, checks and credit cards may not be accepted, and ATMs may not be in operation.
Prescription medicines. Try to have at least a four-week supply if you can.
A flashlight plus batteries.
Important papers: driver's licenses, special medical information, insurance policies, personal belongings inventories, titles, social security cards and family photos for identification purposes if you become separated.
A couple bottles of water.
A favorite stuffed animal or a book to read.
View more great articles from our Learning Center
The information contained in this page is provided for general informational purposes only. The information is provided by Foremost® and while we endeavor to keep the information up to date and correct, we make no representations or warranties of any kind, express or implied, about the completeness, accuracy, reliability, suitability or availability with respect to the articles or the information, products, services or related graphics, if any, contained in the articles for any purpose. The information is not meant as professional or expert advice, and any reliance you place on such information is therefore strictly at your own risk.