If your community participates in the National Flood Insurance Program (NFIP), Flood insurance is available for single family residences, condo owners and associations, renters, mobile and manufactured homes, commercial structures and other residential structures regardless of your flood risk.
Low-to Moderate-Risk Areas
Most buildings and their contents in a low- to moderate-risk areas are eligible for a low-cost Preferred Risk policy. A Preferred Risk policy offers two types of coverage: building and contents combined or contents-only. Rates start as low as $119 a year for homeowners and as low as $39 a year for renters.
If you live in a low- to moderate-risk area and you don't qualify for a Preferred Risk policy due to multiple flood losses on your property, a Standard Risk policy is available.
High-Risk Areas
Customers in High-risk areas can purchase Standard Risk coverage for the building only, contents only or for both the building and contents.
Coverage Limits
Based on the value of your building and its contents, coverage is available up to the following maximum limits of the National Flood Insurance Program:
| | | |
| --- | --- | --- |
| Type | Building | Contents |
| Residential | $250,000 | $100,000 |
| Nonresidential (commercial) | $$500,000 | $200,000 |
If you need coverage beyond these amounts, you may be eligible for a separate Excess Flood policy. Ask our Foremost Flood Unit representative today at 1-866-865-2965.
What's Covered
Flood insurance policies cover direct physical loss by or from flood to your building and personal property. The following is an overview of items that would be eligible for coverage subject to the coverage purchased. For complete coverage information, please our Foremost Flood Unit to request a sample policy at 1-866-865-2965.
Building Property coverage includes:
The building and its foundation
Electrical and plumbing systems
Central air conditioning equipment, furnaces, and water heaters
Refrigerators, stoves and built-in appliances such as dishwashers
Permanently installed carpeting over unfinished flooring
Permanently installed paneling, wallboard, bookcases, and cabinets
Window blinds
Detached garages (up to 10% of Building Property coverage)
Personal Property (contents) coverage includes:
Personal belongings, such as clothing, furniture, and electronic equipment
Curtains
Portable air conditioners
Portable microwave ovens and portable dishwashers
Carpets not permanently installed over unfinished flooring
Washers and dryers
Freezers and the food in them
Certain valuable items such as original artwork and furs (up to $2,500)
Replacement cost coverage is not available for personal property
Other Coverages:
Debris removal at federal minimum wage (not subject to deductible)
Loss avoidance measures ($1,000 limit, no deductible)
Increased Cost of Compliance — flood proofing, relocation, elevation & demolition (subject to limitations and qualifying criteria)
Coverage for basements and property in them is limited regardless of flood risk.
A Foremost Flood Unit representative can help you determine your flood risk and type of coverage to purchase. Call today for a quote, 1-866-865-2965 from 9 a.m. to 5 p.m., Eastern time, Monday through Friday.
Flood insurance is available in all 50 states, as long as your community participates in the National Flood Insurance Program (NFIP), except in Coastal Barrier Resources System (CBRS) areas. Call the Foremost Flood Unit today at 1-866-865-2965 to find out if your community participates. Representatives are available to help you from 9 a.m. to 5 p.m., Eastern time, Monday through Friday.
Most flood policies have a 30-day waiting period before coverage begins, so call for a quote today.
What You Should Know About Floods and Flood Insurance
Devastating floods can occur throughout the United States anytime of the year. Here are some things you should consider about floods and Flood insurance.
You don't have to live by water to be at risk. Anywhere it rains, it can flood. Almost 25% of all flood claims occur in low- to moderate-risk areas.
Most Homeowners insurance policies do not cover flood damage — federal Flood insurance does. Flood insurance also covers damage from mud flow, dirt and debris resulting from moving water.
A home in a high-risk area has a 26% chance of being damaged by a flood during the course of a 30-year mortgage. That same home only has a 10.4% chance of a fire.
In order to receive federal assistance in the event of a flood, the President of the United States of America must declare the flood area a federal disaster, but floods are not always declared a federal disaster.
The most common form of Federal disaster assistance is a loan that must be repaid with interest.
Flood insurance is affordable. Flood damage is not.
Call the Foremost Flood Unit today for a quote, toll-free, at 1-866-865-2965, from 9 a.m. to 5 p.m., Eastern time, Monday through Friday.
(All flood facts and statistics from the National Flood Insurance Program Website, FloodSmart.gov.)
Before a Flood
You don't need to live near a dam or a river to experience a flood, a flood can occur anywhere it rains. Flooding can be quick and unexpected, and a few inches of water can cause thousands of dollars in damage to your home. Almost one quarter of flood claims come from areas deemed low-to-moderate risks areas according to the Federal Emergency Management Agency (FEMA). It's important to be prepared for a flood, no matter where you live.
Flood terminology
Before a flood happens in your area or home, familiarize yourself with the following terms to best understand the hazard you may be facing:
Flood - An overflow of water on what is normally dry land. This may occur because of a river or other existing body of water or because of heavy precipitation. Floods are longer-term events, lasting days or weeks.
Flash Flood - An excessive amount of water in a short period of time, generally less than six hours. A flash flood is usually caused by torrential rainfall that creates fast moving surges and can wash away everything in its path. A flash flood can also be the result of a levee or dam that fails or a sudden release of water by an ice jam.
Flood Watch - Issued when flooding is possible. If you are under a flood watch listen to the radio or television for more information
Flash Flood Watch - Issued when flash flooding is possible. If you are under a flash flood watch, be on alert because you may not always get advanced warning in a flash flood. Be prepared to move to higher ground quickly. Listen to the radio or television for more information.
Flood Warning - Flooding is occurring or will occur soon. Evacuate if advised.
Flash Flood Warning - Flash flooding is occurring. Seek higher ground on foot immediately and avoid already flooded areas.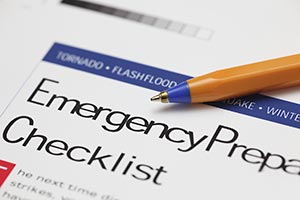 Plan ahead for a flood
The best way to minimize damage to your home or the risk of danger from a flood is to plan ahead. A flood can often happen very quickly, leaving you with little time to do anything but evacuate. Here's how you can help make sure your family is ready to properly react in a flood:
Know your property and area. What is the elevation and is it flood-prone? You should avoid building in flood-prone areas unless you elevate and reinforce your home. Are there dams or rivers that could pose a flood risk to your home? Learn evacuation routes in your community and where you should go if waters rise.
Prepare your home. Make sure your sump pump is working and install a water alarm, which can warn you when water enters your home. Elevate appliances like your water heater, washer, dryer and furnace at least twelve inches above a projected flood elevation. Move furniture, valuables and important documents to higher stories in the home. Clear debris from gutters and downspouts to allow rainfall to run away from your home.
Protect your assets and information. Create a "flood file" and keep in it an accessible waterproof and fireproof container. This file should contain: a room by room inventory of your possessions including photos, videos and receipts; a copy of your insurance with contact information for your agent and the claims phone number; and copies of critical documents, like financial records, social security cards, birth certificates, marriage license, will, deeds and titles, and a CD back-up of important computer documents or digital photos.
Develop an emergency plan. Practice a flood evacuation route that includes routes from home, work and school. Ask an out-of-town relative or friend to be your emergency family contact, someone who all members of the family can call to let them know they are safe. Make sure you also consider the safety of any pets.
Create an emergency kit. Have extra drinking water, non-perishable food, first-aid materials, blankets, a battery-powered radio, a flashlight, and extra batteries ready to grab in case you need to evacuate.
You should also consider flood insurance. Most homeowners policies do not provide coverage for flood. Check your policy's Declarations Page to see if flood coverage is listed. You can purchase a flood insurance policy from the National Flood Insurance Program (NFIP) issued by Foremost, as long as your community participates in the NFIP. Click here to learn more. Note that while you can purchase flood insurance at any time, there is a 30-day waiting period after you've applied and paid the premium before your policy is effective.
During a Flood
Floods are one of most common weather dangers in the U.S. and cause millions of dollars of damage each year. If you find yourself caught in a flood, the most important thing you can do is make sure you and your family are safe.
If flooding is happening
If a flood is threatening your home or your car, listen for information and instructions on the television or radio. If a flash flood is occurring and you are at high-risk, grab your emergency kit (with drinking water, non-perishable food, first-aid materials, blankets, a battery-powered radio, a flashlight and extra batteries) and your family and immediately move to higher ground. Don't wait for evacuation instructions during a flash flood.
If a flood is likely but hasn't yet occurred
If you have time before a flood affects your home and a flash flood isn't a threat, you should activate your flood plan. Start with moving your valuables to upper floors and securing your outdoor belongings. Turn off utilities at the main valves. Disconnect any electrical appliances, but not if you are wet or standing in water. Listen to the television or radio and follow any instructions. You should be ready to evacuate. Close and lock your doors and windows. Have your emergency kit handy, as well as you car keys, a charged cell phone, credit cards and insurance information.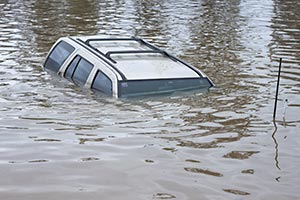 During an evacuation
Once you leave your house, make sure you are aware of the dangers you could encounter while trying to get to higher ground. Here are some rules:
Do not walk through moving water. You can easily fall in as little as six inches of moving water. If you have to walk through water, find a place where the water is stagnant. Use a stick to check how firm the ground is in front of you.
Do not drive in flooded areas. It's easy to misjudge the depth of a flood, but just a little water can pose a big risk to your vehicle. Six inches of water is enough to reach the bottom of most passenger vehicles and cause a loss of control. A foot of water will float most vehicles and two feet of rushing water is powerful enough to carry away sport utility vehicles (SUVs) and pick-up trucks.
Watch the roads. Roads may have cracked or been washed away in a flood. Pay attention the condition of the streets you're driving.
If water rises around your car, react quickly if it's safe. Abandon the vehicle and move to higher ground if possible.
If you come in contact with floodwater, wash your hands with soap and clean water as soon as possible, because you don't know what chemicals may be mixed in the floodwater.
Again, the most important thing for you to do in a flood is to make sure you and your family are safe. When it comes to minimizing damage and increasing safety during a flood, it is beneficial to prepare. Follow the guidelines on what to do before a flood and consider flood insurance. Most homeowners policies do not provide coverage for flood. Check your policy's Declarations Page to see if flood coverage is listed. You can purchase a flood insurance policy from the National Flood Insurance Program (NFIP) issued by Foremost, as long as your community participates in the NFIP. Click here to learn more. Note that while you can purchase flood insurance at any time, there is a 30-day waiting period after you've applied and paid the premium before your policy is effective.
After a Flood
The recovery from a flood can be an expensive and intensive process. As soon as the floodwaters have receded and officials have OK'd returning, you can begin any work needed restore your home. Here are some guidelines to start the process.
What to bring
When you are given the OK to go back to your home, make sure you bring the following:
A battery-powered flashlight and radio and extra batteries
A first aid kit
Waterproof boots or waders
Safety clothing, like a hard hat, gloves, hard soled shoes, glasses and a mask
A video camera or still camera to record damage
Tools
Drinking water
Trash bags
A wooden stick for turning things over, scaring animals and moving electrical wires
Cleaning supplies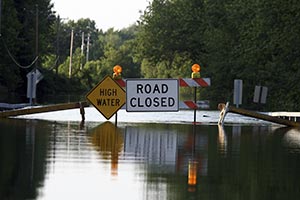 Make sure your home is safe
Before re-entering your home after a flood, it's important to make sure your structure is safe:
Stay out of any building that is still surrounded by floodwaters, even if officials have said you can return home. You don't want to enter any building until the water has receded.
Stay away from downed power lines and any standing water that may carry an electrical current. Report any downed lines to the power company.
Check for structural damage before re-entering your home. By making sure your home is sound, you can avoid being trapped in a possible collapse. Even if you don't spot any damage, still use extreme caution because the problem may be hidden in the foundation.
Turn off the electricity in your home at the main breaker or fuse box. Make sure you can stand in a dry spot to do this. If you can't stand in a dry spot, call an electrician. Even if your community has power, you don't want to restore your power on until you're certain that your home is thoroughly dry.
Turn off the gas. Gas appliances and pipes may have been damaged in the flood. If you smell gas, leave immediately and call the gas company from another location.
Check your sewage system. Repair damaged septic tanks, cesspools, pits, and leaching systems as soon as possible as these are serious health hazards. Public sewer systems should work soon after a flood, but use caution because they might be clogged with mud.
Take precaution when inspecting your home. Your home may have sagging ceilings and some areas that are still flooded. Also, beware of critters like snakes, spiders, and rodents that may have taken refuge in your home.
You should also file a claim with your agent or the insurance company that issued your flood policy. Make sure your agent and adjuster have a phone number you can be reached at, especially if you aren't able to stay in your home.
Recovering your belongings
After you've surveyed your structure and made sure it was safe to enter, it's time to start separating the damaged and undamaged items. Here are some tips:
Remove wet contents immediately to help prevent mold.
Find and protect the most valuable items first. Wash mud off before it can dry and place in a safe place.
Take photographs of all your damaged objects, anything that needs to be discarded, damage to the structure and water lines on walls.
Make a list of everything that's damaged, including the date of purchase, its value and a receipt of purchase, if possible.
Clean and disinfect anything that came in contact with floodwater. Any wet items should be monitored during the drying process to make sure it doesn't develop an odor or mold.
Make sure your water supply is safe
It's very important that you listen to news reports to learn when your community's water supply is safe to consume through drinking, cooking or personal hygiene. Until then follow these precautions:
Use bottled water that has not been exposed to contaminated water if available.
If you don't have bottled water, boil water to make it safe. A full boil of at least one minute will kill most types of disease-causing organisms. Store boiled water in covered, clean containers.
If a well has been flooded, it should be tested and disinfected after flood waters recede. If you suspect that you have a contaminated well, contact your local or state health department for advice.
This is just the start of a lengthy repair process for a flooded home. Make sure you're diligent with your repairs and your record keeping to ease the recovery and claim process.