Why You Shouldn't Overlook Your Tires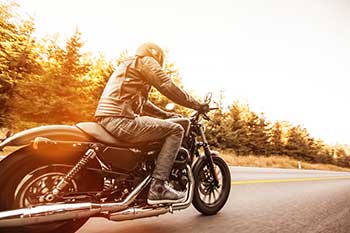 When it comes to motorcycles, there are few things as important as the tires. Tire maintenance is essential, and it doesn't take a lot of time or effort to inspect a bike's tires. In addition, doing regular inspections will help the motorcycle achieve top mileage and performance.
Here are some tips that can help keep motorcycle tires performing in top condition:
Check for proper tire inflation pressure. For peak performance and fuel economy, it's important that the tires are not over-inflated or under-inflated. The best time to check the tire pressure is right before your ride while the tires are cool. If you are seeing repeated under-inflation, this should be inspected by a professional because it could signal a slow leak that could cause a blow out.
Don't overload your bike. Overloading places stress on the tires and can cause poor handling and excessive fuel consumption. Check your owner's manual to determine limits.
Look for wear. Get in the habit of getting professional inspections to be sure the tires are in the best condition possible. Pay attention to tread wear indicators and keep an eye out for foreign objects, and cracks or grooves that would require replacement.
Tire Repairs. If you need to get your tires repaired, get it done by a professional as soon as possible. After the repairs are done, speed should not exceed more than 50 mph in the first 24 hours after a repair is made. After the 24 hour period, you should avoid riding at high speeds in general since the condition of it has been altered.
Break in new tires. Brand new tires should be ridden very cautiously for the first 100 miles to allow the tires to be "scuffed-in." This provides the rider with an opportunity to get to know how the new tires handle and react.
If you have any other questions concerning the performance of your motorcycle or your tires, contact your local dealer or mechanic. Foremost® wants you to make sure you are safe on your bike at all times!
Keep up with the Foremost® team and all of their adventures on this action-packed Facebook page! This year Foremost is attending several motorcycle rallies across the U.S., including Daytona Bike Week, the Rolling Thunder Run, Laconia, NH, and more!
Click here for more great articles from our Learning Center
The information contained in this page is provided for general informational purposes only. The information is provided by Foremost® and while we endeavor to keep the information up to date and correct, we make no representations or warranties of any kind, express or implied, about the completeness, accuracy, reliability, suitability or availability with respect to the articles or the information, products, services or related graphics, if any, contained in the articles for any purpose. The information is not meant as professional or expert advice, and any reliance you place on such information is therefore strictly at your own risk.