What to consider when gearing up for the long haul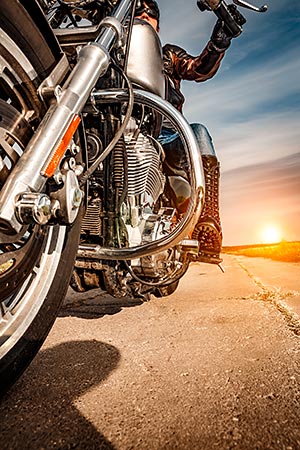 Protective gear: Pack it? No, wear it.
If you want to have the safest ride possible, wear full protective gear. And in your saddlebag, you keep full rain gear within reach.
Clothes? Pack them.
You'll want to bring several layers, so you'll be able to handle temperature changes throughout the day. Synthetic fabrics are recommended for their ability to help regulate temperature. But don't pack too many extra layers; you can always stop at a Laundromat along the way.
Tuxedo? Nope.
Unless you're James Bond, leave it at home. But you bring comfortable clothes, including shoes. You'll want to slip into something a little more comfortable after a long day on your bike.
Electronics? Pack some. Not all.
A lot of riders recommend bringing a GPS and camera, but many smartphones have both of these features built in. If you decide to rely on just your smartphone, make sure your bike has a power port or bring a backup battery.
Tool kit? Absolutely.
What you include in your toolkit depends on what you're comfortable fixing. At a minimum, bring the tools that came with the bike, a tire repair kit and the owner's manual.
Camping gear? Possibly.
It depends on how you like your R&R. If you do decide to purchase a tent for your journey, look for one that's compact and lightweight.
Insurance card? Of course.
And if you don't already have Towing and Roadside Assistance on your policy, call Foremost at 1-800-752-2461 to see about adding it. This coverage is great to have, especially on road trips.
Emergency funds? A big, fat yes.
If your wallet is lost or stolen, you'll want to have some cash or another credit card on hand to help you complete the journey. Hide your cash or card somewhere other than your luggage.
No-brainer essentials? Don't give these a second thought.
Pain relievers. Daily medications. Toiletries. And a list of your vital health information, including emergency contacts, doctors and prescriptions.
What do you absolutely need to be safe and get the most out of the ride? That's up to you. It's best to gather everything you may want to bring and lay it out on the floor. Then step back and begin ditching the things you can probably live without — like a bocce ball set. It may take you a few long hauls to determine your packing sweet spot. But what's most important is that you're always packed for the safest, most enjoyable ride possible.
Click here for more great articles from our Learning Center
The information contained in this page is provided for general informational purposes only. The information is provided by Foremost® and while we endeavor to keep the information up to date and correct, we make no representations or warranties of any kind, express or implied, about the completeness, accuracy, reliability, suitability or availability with respect to the articles or the information, products, services or related graphics, if any, contained in the articles for any purpose. The information is not meant as professional or expert advice, and any reliance you place on such information is therefore strictly at your own risk.