Wear the proper safety gear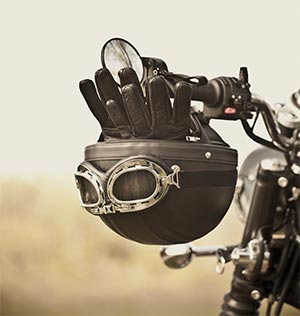 When's the last time you took a good look at your motorcycle safety gear? Do you have everything you need? Is it still in good condition? As you sort through your belongings and think about what to buy for the next motorcycle season, consider this important information.
Safety comes first
Wear protective clothing designed to minimize injury in the event of a crash. Every time you ride, you should be wearing motorcycle-specific pants, boots, gloves, eye protection, a helmet and a jacket.
Helmets
For maximum protection, you really should consider a full-face helmet. Not only does this protect your entire face, but it will keep the wind out of your eyes and the bugs out of your teeth. Select a helmet that fits snugly and evenly holds your head all the way around. Most helmets have a five year life span before they begin to degrade, impacting safety. Be sure your helmet is Department of Transportation approved.
Eye protection
If you have a full-face helmet, you don't need additional eye protection. However, if you ride with an open face helmet, you should wear glasses or goggles to protect the eyes from wind, dirt and debris. Eye gear should provide UV protection and be made of a shatter-resistant material. If you'll be riding at night, change to clear lenses without any tint.
Jackets
Motorcycle jackets are typically made from either leather or a high quality textile material. They should have multiple seams to protect stitching, air vents and body armor. And they should come with a "CE" safety rating. You'll want the jacket to fit snugly, but leave your arms room to move fully. Think about what kind of weather you'll be riding in and buy accordingly.
Pants
Leather, Kevlar and other synthetic materials will protect you best in the case of an accident. You can also find some with hard plastic armor at the knees and hips. As with all of your clothing, they should fit snugly, but allow you full movement.
Boots
Look for a sturdy pair of boots with non-slip soles, good ankle support and strong heal and toe boxes. Some have a metal plate running through the sole or armor over the ankle and shin area. Whichever kind you choose, make sure they lace snugly above your ankles.
Gloves
Properly fitted gloves protect hands from blisters, wind, cold and sun, and most importantly, should reduce injury if you're in a crash. Look for strong, abrasion-resistant material that will slide rather than catch on the pavement. There should be significant overlap between your gloves and jacket so you never have exposed skin. Those with a retention strap around the wrist will stay in place best.
Other considerations
Additional items to consider include a waterproof riding suit, long underwear, ear plugs, reflective tape and breathable clothing.
Safety Apparel Coverage
If your policy includes Collision, Foremost provides up to $1,500 for damage to safety apparel in the event of an accident.
Click here for more great articles from our Learning Center
The information contained in this page is provided for general informational purposes only. The information is provided by Foremost® and while we endeavor to keep the information up to date and correct, we make no representations or warranties of any kind, express or implied, about the completeness, accuracy, reliability, suitability or availability with respect to the articles or the information, products, services or related graphics, if any, contained in the articles for any purpose. The information is not meant as professional or expert advice, and any reliance you place on such information is therefore strictly at your own risk.