Watch your roof for ice dams this winter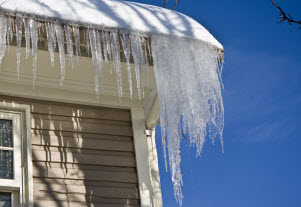 By Joseph Ostrowski, Learning Delivery Specialist
As winter rolls around, homeowners should be aware of damages that can occur due to snow and cold weather. One common scenario is ice damming.
Pay attention to warning signs
If you have icicles on your home, it's a good indication that the attic insulation needs attention and/or you have poor attic ventilation. If an ice dam is present, there are a variety of ways to have it removed. Calling a local roofer or insulation contractor is the best remedy to eliminate the problem before damages occur or get worse.
Have ice dams removed quickly
It's important to know that ice dams happen over a period of time and manufactured home insurance policies provide coverage for claims that are "direct, sudden and accidental." There is also an exclusion in the policy for "Loss caused by leakage from rain, sleet or snow or its resulting damage whether or not wind driven." This would apply to most ice damming scenarios that produce damage to the home.
That's why it's important to maintain your roof to avoid ice dams and to watch for signs of ice dams so you can act quickly to get them removed.
See the image below from the Insurance Institute for Business & Home Safety that illustrates how ice dams develop, in addition to ways to prevent ice damming.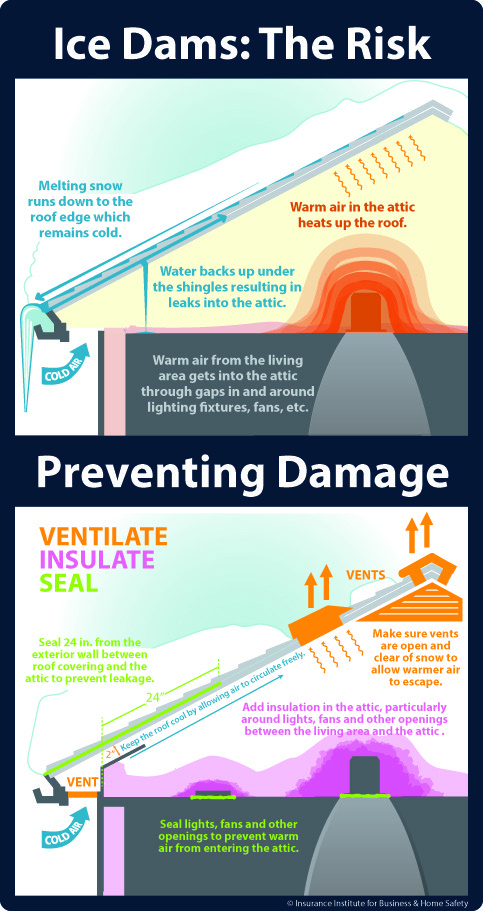 Click here for more great articles from our Learning Center
The information contained in this page is provided for general informational purposes only. The information is provided by Foremost® and while we endeavor to keep the information up to date and correct, we make no representations or warranties of any kind, express or implied, about the completeness, accuracy, reliability, suitability or availability with respect to the articles or the information, products, services or related graphics, if any, contained in the articles for any purpose. The information is not meant as professional or expert advice, and any reliance you place on such information is therefore strictly at your own risk.