Tie-Downs for Your Mobile Home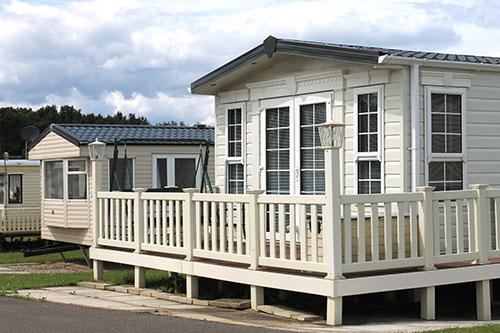 When severe weather hits and strong winds blow, your mobile home needs extra protection to ensure a safe, anchored space. Mobile homes are more susceptible to flipping and incurring other damage during heavy winds, so no matter where you live, tie-downs and anchors are necessary.
The good news is that you can easily install them on your own, or with the help of a neighbor! To help with this project, here's the step-by-step process for installing tie-downs and anchors.
Two types of tie-downs.
There are two types of tie-downs: Over-the-top tie-downs and frame anchors. Over-the-top tie-downs are straps that are placed over the siding and roof, and frame anchors are straps attached to the home's frame rails. Single-wide manufactured homes and other older models generally need both types; newer models and double-wide homes usually only need frame anchors.
The installation process.
Step 1: Level your house. If your home isn't level, it's going to make the installation uneven as well.
Step 2: Check the wind zone charts. Find your location and determine the required number of anchors recommended for your zone. You can find out which zone you are in here.
Step 3: Determine the soil type. It's a good idea to talk to a building inspector to determine your soil type. If you will be attaching your tie-downs to a concrete foundation, make sure it is at least four inches thick. From there, you'll be able to select your anchor type and hookup.
Step 4: Locate any wires or cables you may have leading into your home. Mark the location before your start digging so the cables remain undisturbed.
Step 5: Position the over-the-top tie-downs. If you're installing exposed over-the-top tie-downs, you need to have some sort of roof protectors placed under the strap at the edge of the roof. These prevent the tie-down straps from damaging the roof and will prevent the edge of the roof from cutting through the tie-down.
Step 6: Install the anchors. You'll find specific installation instructions with your anchors. Follow them carefully! If you have any questions about this step, contact a professional or a local building inspector.
Remember that anchor and tie-down systems will vary. It's important for you to contact a local building inspector for regulations regarding anchoring and blocking installation in your community. In some states, tie-downs aren't required, and in others, tie-downs are regulated and inspected.
In the end your home will be ready for any rough winds that may blow your way!
View more great articles from our Learning Center
The information contained in this page is provided for general informational purposes only. The information is provided by Foremost® and while we endeavor to keep the information up to date and correct, we make no representations or warranties of any kind, express or implied, about the completeness, accuracy, reliability, suitability or availability with respect to the articles or the information, products, services or related graphics, if any, contained in the articles for any purpose. The information is not meant as professional or expert advice, and any reliance you place on such information is therefore strictly at your own risk.