Stop pests from invading your home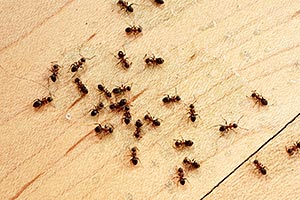 Nobody likes the idea of pests flying and crawling around their home, so don't make it easy for them. Invest a little time and effort in pest prevention, and help stop these little critters before they become a big problem. Here are some tips to reduce infestation.
Clean your yard.
Leaf litter, garden debris, wood chips and tall grass provide ideal shelter for pests. Trim any trees or shrubs that touch your home, keep mulch away from your foundation and mow your lawn regularly.
Inspect doors and windows.
Since pests can enter through the tiniest crack, repair any gaps in doors and windows with seal or caulk, as well as all tears in your screens. Every door and window on your house should have a screen, preferably one with a mesh of at least 200 holes per square.
Fill cracks.
Check the entire exterior of your home including roof vents, siding, eaves, gutters and air conditioner, for openings. Get a tube of caulk and seal any openings you find. For your roof, you may want to try asphalt roofing cement.
Scrub trash bins.
Periodically wash your trash bins with a bleach solution to reduce smells that may attract insects. Be sure all litter stays sealed inside the trash can and has a tight-fitting lid.
Choose lighting carefully.
Not only are insects attracted to light, but many also like the heat that bulbs give off. Select cooler lights such as LED and sodium vapor. Tint is another important factor as bulbs with pink, yellow or orange tints are less appealing to insects than bright white.
Use natural repellants.
Marigolds and rosemary plants along with citronella grass help repel mosquitoes, while lemon juice and cinnamon turn ants away. Surround your walkway and deck with these plants, and then mix a solution of water and either lemon juice or cinnamon oil and spray across doorways and around windows.
Keep it tidy.
The cleaner the inside of your home, the less attraction it will have for pests. Wipe crumbs immediately, sweep floors regularly and clean spills right away. Keep food sealed up tight and take garbage out frequently.
Click here for more great articles from our Learning Center
The information contained in this page is provided for general informational purposes only. The information is provided by Foremost® and while we endeavor to keep the information up to date and correct, we make no representations or warranties of any kind, express or implied, about the completeness, accuracy, reliability, suitability or availability with respect to the articles or the information, products, services or related graphics, if any, contained in the articles for any purpose. The information is not meant as professional or expert advice, and any reliance you place on such information is therefore strictly at your own risk.