Start your own garden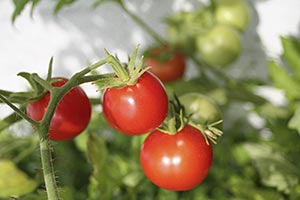 If you haven't thought about planting your own garden before, give it a try. You don't need as much space as you think and there are several compelling reasons to grow your own food. Best of all, everyone loves fresh, homegrown produce.
You need your own garden.
One of the biggest reasons to start a garden is because food prices are on the rise. Also, when you grow your own food, you control what goes into that food. You can keep your food organic or use the fertilizer and pest control methods that you trust. And thirdly, you can enjoy the freshest food available — right from the garden to your dinner table on the same day.
Select the right fruits and vegetables.
Now that you're convinced a garden is a great idea, what do you plant? A good rule is to only plant the foods you eat frequently. Tomatoes are a good choice because of their excellent homegrown flavor. Lettuce, bell peppers, zucchini and squash are also good for beginning gardeners.
Choose the best spot.
If you live in a mobile home community, start by checking with your community manager for rules about garden placement. Next, see if you can carve out a small corner of your yard that gets at least six hours of full sun per day. Be sure to select a spot that will be convenient to water with a hose. Try to keep it far enough away from the driveway so it isn't damaged by cars that stray off the pavement.
Begin with seeds or a plant.
Find out what the latest frost date is in your area before you start planting. You can also start the seeds indoors by a window with lots of light. To give your vegetables more of a boost, consider buying the plant instead of beginning with seeds.
Try using containers.
If you can't spare a corner of your yard, potted plants and container gardens work just as well. Place them on an uncovered porch, deck or patio. Choose large, decorative containers and place smaller pots of colorful flowers around them to create a bright, cheerful environment.
Keep them growing.
To keep vegetables growing and healthy, water regularly. New plants need frequent watering until they are nice and hardy. Rows of seeds also need continuous moisture. Once plants and seedlings grow and their roots extend deeper, you can water less often. Pull weeds when needed. Check the plants for bugs and if you find any, hose them off.
Enjoy yourself!
Relax in the warm outdoors and absorb the sounds of nature while in your garden. Pick your vegetables when they are ripe and cook them in your favorite dishes. You can also share them with friends and neighbors when you have extras.
Click here for more great articles from our Learning Center
The information contained in this page is provided for general informational purposes only. The information is provided by Foremost® and while we endeavor to keep the information up to date and correct, we make no representations or warranties of any kind, express or implied, about the completeness, accuracy, reliability, suitability or availability with respect to the articles or the information, products, services or related graphics, if any, contained in the articles for any purpose. The information is not meant as professional or expert advice, and any reliance you place on such information is therefore strictly at your own risk.