Lighten up your home in time for spring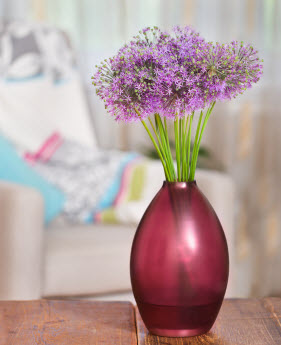 Go through your home and put away anything plush or heavy looking. Brocades and velvets are great for warming up a room in the winter, but are no longer needed when spring weather warms it up instead.


Roll up your area rugs and store them away until fall or send them out for cleaning and storage. If you absolutely need an area rug or two, consider sisal mats.


Put away afghans and throws. It's a great time to get them cleaned so they'll be fresh and ready next September.


Place lightweight linens on your bed. Flannel sheets, quilts and heavy comforters can go into storage until the weather turns cold again.


If you've got heavy drapes, take them down and get them cleaned and stored. Put up some lightweight sheers and see what a difference they make. Clean your windows until they sparkle (or hire a window cleaning service while you take the grandkids to a movie).


Beautify your furniture with bright slipcovers. They're a great way to add color and protect your couch and chairs too.


Buy or make some pillows in light colors and summery fabrics like hopsacking or a linen-looking fabric (real linen wrinkles pretty easily, so a linen look works well and fits the season).


Edit your displayed collections to fewer items or assemble them in a light color wicker basket. Candles are great for winter when they bring in lots of warm, wonderful light. But in spring, use candles in mason jars to add personality on your deck or patio. Inside, swap out candlesticks for a topiary or other seasonal plant that brings the outdoors in.


Splurge on some bright placemats for your table. Add colored napkins with matching rings and bright dishes to complete a spring color palate.


Plant a few annual flowers in your side yard just for cutting so you can bring bouquets inside this summer.
Just a few hours spent cleaning and storing will create amazing changes in the look of your home. Once you're done, sit back, relax and enjoy the springtime!
Click here for more great articles from our Learning Center
The information contained in this page is provided for general informational purposes only. The information is provided by Foremost® and while we endeavor to keep the information up to date and correct, we make no representations or warranties of any kind, express or implied, about the completeness, accuracy, reliability, suitability or availability with respect to the articles or the information, products, services or related graphics, if any, contained in the articles for any purpose. The information is not meant as professional or expert advice, and any reliance you place on such information is therefore strictly at your own risk.