Revamp Your Kitchen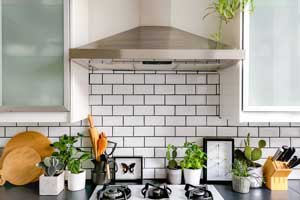 Whether you bought a new or used mobile home, odds are that when you purchased it the design wasn't exactly what you wanted. Builders may not use the most high-end materials on new builds, and if it's an older model, it may be time for an update. If you ever plan to revamp a room in your mobile home, consider starting with the kitchen. It can make your mobile home look more modern, and they can have some of the best return-on-investment rates.*
If you're not sure where to start in your kitchen or if you're looking for inspiration, you're in the right place. Foremost® has done some research for you and put together a list of ideas you can use to give your kitchen a more updated look!
Paint your cabinets.
This can be a great option to give your kitchen a completely new look. If it's in your budget, consider having professional painters do the job. However, if you're up for the challenge, there are plenty of step-by-step tutorials online that explain how to prep and paint your cabinets. You can definitely save some money if you go this route, but it is not an easy task!
Add an island.
This could be a nice way to add more counter space without doing extensive work. We've learned that there is such a thing as a mobile kitchen island. They have wheels and will allow you to move the island where you need it. There are a wide variety of styles to choose from, so you are likely to find one that matches your kitchen.
Update the lighting.
Switching out your light fixtures can be a game changer. Replacing the light fixtures with more decorative options is a simple change that can make the space look trendier, more unique and improve the overall style of your home. If you want to save a few dollar bills on your electric bill, consider going with energy saving LED lighting.
Paint the walls.
This can be an inexpensive way to change the look of any room. With kitchens, you typically want to brighten up the space, so you may want to go with a lighter color. The wall color will depend on what your cabinet colors are, so make sure you pick one that pairs nicely. White is timeless (and popular right now), so that is a color you can't go wrong with!
Install backsplash.
Adding backsplash to your kitchen or switching out your current backsplash can instantly give the space a facelift. If you're into DIY projects there is plenty of free information and videos online that explain how to install it. However, if it looks too intimidating, it may be best to get it professionally installed.
Switch out the hardware.
Replacing the knobs and handles on your kitchen cabinets is an easy, inexpensive way to give your kitchen a new look! There are tons of different colors and styles to choose from; you can visit your local hardware store to see what your options are or search online.
New window treatments.
Giving your windows a more polished look can really complete the look of your kitchen. There are certain styles that are popular for kitchens right now and will be sure to make a statement in the room whenever you have guests over. Window treatment styles to consider are: Roman shades, faux wood blinds, wood shutters and roller shades.
We hope some of these suggestions fit into your budget and give you the motivation to get started. Good luck on your journey, and feel free to share before and after pictures on our Facebook page!
View more great articles from our Learning Center
The information contained in this page is provided for general informational purposes only. The information is provided by Foremost® and while we endeavor to keep the information up to date and correct, we make no representations or warranties of any kind, express or implied, about the completeness, accuracy, reliability, suitability or availability with respect to the articles or the information, products, services or related graphics, if any, contained in the articles for any purpose. The information is not meant as professional or expert advice, and any reliance you place on such information is therefore strictly at your own risk.