Tips on buying used bikes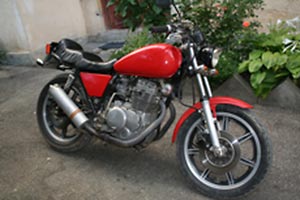 There's always some risk involved in buying a used motorcycle. You have to rely on the word of the seller, and they may not be as forthcoming as you'd like. That's why it's important to be cautious. Follow these suggestions to help ensure you get what you expect out of the deal.
Research value.
Do some investigating into the market value of the bike you're interested in before you start looking and come up with a ballpark figure of what you're willing to pay.
Ask questions.
Get as much information as you can from the seller. Here are some suggestions to find out how well the bike has been maintained:
Where do you store the bike?
What maintenance schedule have you followed?
What type of riding have you done?
Who do you use for service?
Why are you selling?
Take it for a spin.
Bring your safety gear along and ask if you can take it for a test ride. Listen carefully to how the engine sounds and run through all the gears. Remember to make stops to find out how the brakes respond.
Perform a thorough inspection.
Give the bike a good once-over, looking carefully at the following:
Frame - Check for dents, cracks and fractures which can lead to serious problems.
Chain - Inspect for corrosion and test for flexibility.
Tires - Make sure any wear of the tires is evenly distributed and examine the tread.
Battery - Look for corrosion which could mean the bike has been sitting for a while.
Missing parts - Note anything that's missing and obtain estimates from a dealership for replacement.
Be cautious.
Look closely at the title. Bikes registered as "assembled" or "all custom" could be clones made from aftermarket components.
Make a paper trail.
Get signed paperwork of your agreement by both you and the seller. Take possession of the title before handing over cash.
Protect your investment.
Now that you've spent a large chunk of change for your new toy, make sure to insure it before riding. Foremost offers multi-unit discounts to save you money.
Click here for more great articles from our Learning Center
The information contained in this page is provided for general informational purposes only. The information is provided by Foremost® and while we endeavor to keep the information up to date and correct, we make no representations or warranties of any kind, express or implied, about the completeness, accuracy, reliability, suitability or availability with respect to the articles or the information, products, services or related graphics, if any, contained in the articles for any purpose. The information is not meant as professional or expert advice, and any reliance you place on such information is therefore strictly at your own risk.