Five Must-Ride Motorcycle Routes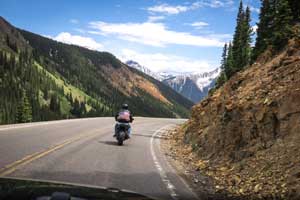 The best part about riding a motorcycle is being up close and personal with the scenery around you, but it can be hard to find new places to take your bike and get the most out of every ride. If you are craving a new adventure, look no further! This list of routes highlights some lesser-known areas that are worth a ride.
1. Cherohala Skyway
Just west of the Great Smokey Mountains National park, you will find Cherohala Skyway. This 43-mile long ride leads you through the mountains of North Carolina and the forests of Tennessee.
The lack of tourists and buildings make Cherohala the perfect place to get away and is open all year (except when snow blocks). There is no civilization for about 41 miles, except for a bathroom or two. Elevation signs along the road will signal each 1,000 ft. change. If you are looking for a smooth ride with no distractions (other than nature's overwhelming beauty), this is the ride for you.
2. Moonshiner 28
Not too far from Cherohala, Moonshiner 28 offers an entirely different riding experience. The road features good food and plenty of places to stay during your trip. If you are looking for more action during your ride, Moonshiner 28 is for you.
This 103-mile ride extends from Deal's Gap to Walhalla, South Carolina, cutting through Georgia along the way. You will encounter beautiful mountains, crashing waterfalls and several lakes on this spectacular route. You won't want to miss it! Fun fact: Moonshiner 28 was once home to illegal moonshiners on the run from the law, hence the name. Stop at the (now legal) moonshine distilleries along the way to learn about the area's rich history.
3. Beartooth Highway
Ready to experience the Wild, Wild West? This 68-mile ride follows U.S. Highway 212 through Montana and Wyoming. Featuring dozens of hairpin turns and switchbacks, this dreamy route is best for an experienced rider looking for some serious fun.
The highway will take you through snow-capped mountains and glacial tundra where you can take a break in the alpine meadows and enjoy the scenery. Due to the high altitude, this route is closed from October to May, making it the perfect summer ride. But be cautious! Beartooth Highway is always subject to extreme weather, even during the summer. Be sure to check in with the Beartooth Ranger District before you head out to ensure that conditions are clear for a safe ride.
4. Peak-to-Peak Highway
Colorado is known for stunning scenery and a plethora of mountains. Peak-to-Peak Highway is a 60 mile-long ride that boasts incredible, unobstructed views of the Front Range in Rocky Mountain National Park. Be sure to bring hiking boots and a camera so you are prepared for any adventures. There are endless locations to snap pictures or explore the park with easy pullouts along the way.
The ride will take you through Estes Park, which is home to beautiful, clear Lake Estes. Whether you ride past and take in the sights or decide to stop and enjoy the water, the experience is like nothing else. Also, be sure to check out the Continental Divide. This is the location that splits the continent in two with water flowing down both sides of the peak. It is definitely a sight to see!
5. Tunnel of Trees
The Midwest is often overlooked for scenic routes, but this is one ride you'll want to take at least once in your life. Located in Northern Michigan, this narrow road on Michigan Highway 119 stretches along Lake Michigan. It's called "Tunnel of Trees" because it is quite literally that. You will experience forest views all around you in a large area that was once inhabited by Ottawa Indians. It's beautiful anytime of the year, but the most picturesque time to ride is in the fall for peak colors.
This route begins in the northern part of Petoskey, a small resort town, and runs 20-miles long. It's a slow, curvy and relaxing ride that offers areas to pull over and take pictures or, if you need a break, you can head to the beach at your leisure.
Traveling away from the beaten path can lead to some pretty incredible moments. Next time you are out on a ride, take a surprise left! Who knows what you might find.
View more great articles from our Learning Center
The information contained in this page is provided for general informational purposes only. The information is provided by Foremost® and while we endeavor to keep the information up to date and correct, we make no representations or warranties of any kind, express or implied, about the completeness, accuracy, reliability, suitability or availability with respect to the articles or the information, products, services or related graphics, if any, contained in the articles for any purpose. The information is not meant as professional or expert advice, and any reliance you place on such information is therefore strictly at your own risk.