Motorcycle Theft Prevention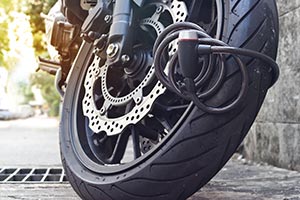 According to the National Insurance Crime Bureau, there were 53,111 motorcycles stolen in 2020, the highest recorded total in five years. Unfortunately, everyone is at risk of theft, but there are measures you can take to deter thieves. Check out what types of security systems are available to help keep your investment safe.
Vibration alarms
These are loud alarms that attach to the bike and are activated by remote. These devices won't stop a thief from physically moving your motorcycle, but the alarm should draw attention. They're a simple, relatively inexpensive option.
Grip locks
Also known as handlebar, throttle, clutch and brake locks, these are used on the handlebars, gripping to the front brake and throttle on one side and the clutch on the other side. They prevent the bike from going into gear. They're typically comprised of tough material that can't be easily cut and may contain a built-in alarm with a powerful siren. Small and easy to use, these locks are designed to fit several types of motorcycles.
Disc locks
These consist of a pin that fits through one of the holes in your disc brake to lock the wheel and immobilize the bike. They're compact, easy to carry and simple to use. Locking is typically a matter of pushing the pin in place with a button and then unlocking it with a key. They even come with a cord that extends up over the handlebars, so you don't forget the lock is there when you return to your bike. Most of them also include a motion-activated alarm that sounds if the bike is moved.
Wired-in alarms
As stated in their name, these alarms are wired directly into the motorcycle. While they don't provide protection against physical movement, basic models include an extremely loud motion-activated alarm that reaches as high as 120 decibels. Upgraded models have enhancements such as monitoring the current in the electrical system so the alarm will sound if someone tries to hotwire the bike; a proximity sensor; battery backup so the remote will still work even if someone cuts the cable; and alerts to warn you that someone is trying to steal your ride.
GPS tracking alarms
The biggest advantage of a GPS tracking alarm is that you can see exactly where your motorcycle is anytime, from anywhere. If your bike is disturbed, you'll receive an alert on your phone at which point you can promptly open the app and check on your ride. You may have a small monthly fee added to your cell service for this type of system, but it may be worth the cost to be able to track your bike. As with most types of alarm options, there are different models. Consider features such as battery consumption and whether the alarm is waterproof.
Whatever type of security you choose, make sure it's something you find easy to install and operate. The more consistently you use it, the more likely it is that you won't be a victim of theft.
View more great articles from our Learning Center
The information contained in this page is provided for general informational purposes only. The information is provided by Foremost® and while we endeavor to keep the information up to date and correct, we make no representations or warranties of any kind, express or implied, about the completeness, accuracy, reliability, suitability or availability with respect to the articles or the information, products, services or related graphics, if any, contained in the articles for any purpose. The information is not meant as professional or expert advice, and any reliance you place on such information is therefore strictly at your own risk.