Tips for seasoned motorcycle riders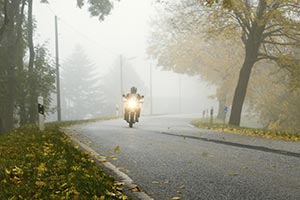 As people get older, they need to recognize and accommodate any physical, age-related changes they undergo to ensure they are riding as safely and as comfortably as possible. Even the most experienced rider will need to adjust to these common types of changes. Check out these tips that will help you ride safely no matter what your age.
Know Your Reaction Time and Adjust Your Riding Accordingly
With age, reaction time increases. If you find yourself frequently "panic-braking" or performing sudden maneuvers to avoid an accident, make adjustments to minimize the need for this type of riding. Ways to accommodate an increased reaction time may include reducing speed, allowing more space between you and the vehicle in front of you and avoiding roads at the busiest times.
Avoid Left Turns at Busy Intersections
If you must make a left turn in a congested area, try to do so at an intersection with a green arrow signal.
Make Sure Your Riding Position is Comfortable
Installing handlebar risers or switching to an aftermarket seat could make a big difference. Even the slightest discomfort while you're riding could turn into major stiffness and pain the following day.
Plan Out Your Route and Travel Familiar Roads
By doing so, you can completely devote your attention to your surroundings. Check the forecast before you ride so you don't get caught in severe weather conditions.
Take Frequent Breaks
Riding a motorcycle is physically and mentally demanding and requires sharp senses. If you're on a longer ride, you'll find that making frequent stops for a stretch break can be revitalizing. If you're feeling fatigued, take some time to rest before hitting the road again. "Pushing on" when you're tired can be a dangerous mistake.
Avoid Riding at Night
With age, more light is needed to see clearly. If you have trouble seeing while riding at night, avoid the roads after dark and see an eye doctor.
Review Your List of Medications
Some medicines can affect your reaction time and impair your ability to ride a motorcycle. Check with your doctor to find out if any medications you are taking may have these effects.
Have Your Vision Checked Regularly
Poor vision can cause reduced clarity and poor depth perception. Don't put off a simple vision test when it could potentially save your life.
Take a Motorcycle Riding Course
Even the most experienced rider can benefit from taking a course from a training center recognized by the Motorcycle Safety Foundation.
Inspect Your Bike
Make sure your motorcycle is in proper working order. Check items such as tire pressure and wear, oil level and brake fluid levels. A well-maintained bike is less likely to be the cause of an accident.
Listen to the Advice and Observations of Others
Those who ride with you may be able to offer a unique perspective about your riding.
By following these tips, you can create a more safe and enjoyable riding experience for years to come.
The AARP Motorcycle Insurance Program from Foremost offers important coverages in our specialized policy. Foremost has been in the specialty insurance business for over 60 years and we understand that you want to protect your investment. Foremost has specially-trained claims representatives that handle only motorcycle and off-road vehicle claims — it's not just one of the things they do, it's all they do. We have the experience and expertise to handle claims quickly and fairly.
Click here for more great articles from our Learning Center
The information contained in this page is provided for general informational purposes only. The information is provided by Foremost® and while we endeavor to keep the information up to date and correct, we make no representations or warranties of any kind, express or implied, about the completeness, accuracy, reliability, suitability or availability with respect to the articles or the information, products, services or related graphics, if any, contained in the articles for any purpose. The information is not meant as professional or expert advice, and any reliance you place on such information is therefore strictly at your own risk.