Tips for Long-Distance Motorcycle Trips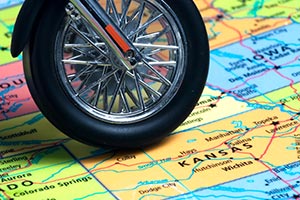 A long-distance motorcycle trip will put your skills and endurance to the test. Distance riding requires a great deal of knowledge and preparation. Check out these tips to help your ride go smoothly.
Insure with the Best. Start your trip off right with coverage through the AARP® Motorcycle Insurance Program from Foremost.
Prepare Your Bike. Completely inspect your motorcycle and give it a thorough tune-up.
Change the oil and filter
Check the air and fuel filters
Check all fluid levels
Adjust throttle and brake cables
Adjust and lube the drive chain (if applicable)
Check tire pressure and tread
Check all gauges, lights, horn and signals
Visually inspect the entire bike for any broken or worn parts
For more in-depth maintenance information, refer to your owner's manual.
If you're not comfortable preparing your bike yourself, bring it to a qualified motorcycle technician before your trip.
Remember Your Tool Kit. Make sure you have what you need to make quick adjustments or repairs on the road. Bring a flat repair kit too.
Do Testing. Test all new accessories and gear before your trip, not during.
Pack Light and Bring Only What You Need. Distribute the weight evenly. Keep heavy items low to ensure the motorcycle maintains a low center of gravity. Plan for a way to secure your belongings at stops. Bring your cell phone too.
Dress Safely. You and your passenger need to wear proper safety gear: helmet; eye protection; a protective jacket; long, thick pants; boots and gloves. Help other motorists see you by wearing brightly colored outer layers and helmet.
Prepare for Weather Conditions. Bring along extra clothing layers or an electric vest for warmth. Remember your rain gear and put it on before it starts raining.
Know Your Limits. Stop often to get off of your bike and stretch. Plan for an adequate number of stops, especially if you don't have much experience with long rides.
Take it Easy. As much as possible, try to stay off of the brakes and avoid any extremes with the throttle. This allows for a less-tiring, more relaxed ride.
Stop if You Feel Tired. Don't rely on caffeine to keep you awake. Operating a motorcycle when your senses are less than sharp is extremely hazardous. And of course, never drink and ride.
Eat Right. Eat well and often enough to keep up your energy. Be sure to bring water and energy bars or trail mix. Eat and drink before you feel hungry or thirsty.
Get Gas Before You Need It. In rural areas, you may travel several hundred miles without passing a gas station. Don't wait until you run low to fill up.
Plan Ahead. Each night, go over your plans for the next day. Get a feel for the route, how long you think you'll ride and places where you might want to stop.
Keep it Fun. Enjoy the scenery, welcome meeting new people and experience the freedom of the road!
Consider Towing and Roadside Assistance Coverage. Not only does it bring help to you if you're ever stranded on the road, but it also includes Trip Interruption Coverage. This provides up to $500 for lodging, meals and transportation costs resulting from a covered collision or theft loss when you're more than 100 miles from home.
If you'd like a quote for a policy through the AARP® Motorcycle Insurance Program from Foremost, just call us at 1-800-752-2461 or request a quote online. Also give us a call if you already have our policy and would like to add Towing and Roadside Assistance coverage.
The AARP Motorcycle Insurance Program from Foremost offers important coverages in our specialized policy. Foremost has been in the specialty insurance business for over 60 years and we understand that you want to protect your investment. Foremost has specially-trained claims representatives that handle only motorcycle and off-road vehicle claims — it's not just one of the things they do, it's all they do. We have the experience and expertise to handle claims quickly and fairly.
View more great articles from our Learning Center
The information contained in this page is provided for general informational purposes only. The information is provided by Foremost® and while we endeavor to keep the information up to date and correct, we make no representations or warranties of any kind, express or implied, about the completeness, accuracy, reliability, suitability or availability with respect to the articles or the information, products, services or related graphics, if any, contained in the articles for any purpose. The information is not meant as professional or expert advice, and any reliance you place on such information is therefore strictly at your own risk.