Weather Safety: What to Know About Hurricanes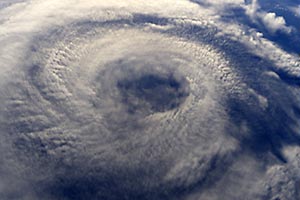 There are five stages of hurricane development. When a storm does become a hurricane, it can happen at a quick, intense pace. Hurricane season runs from June through November beginning with organized low pressure systems forming over tropical waters:
Tropical Wave: A low-pressure trough moving generally westward in the trade winds.
Tropical Disturbance: An organized area of showers and thunderstorms. Typically, they maintain their identity at least 24 hours and are accompanied by heavy rains and gusty winds.
Tropical Depression: An organized area of tropical low pressure in which sustained winds are 38 miles per hour or less.
Tropical Storm: A tropical cyclone with maximum sustained wind speeds that range from 39 to 73 miles per hour.
Hurricane: A tropical cyclone with maximum sustained winds of at least 74 miles per hour.
The Warning Signs
There are four key alerts issued by the National Weather Service when a tropical storm is escalating to warn those living in affected areas.
Tropical Storm Watch: Tropical storm conditions with sustained winds from 39 to 73 miles per hour are possible in your area within the next 36 hours.
Tropical Storm Warning: Tropical storm conditions are expected in your area within the next 24 hours.
Hurricane Watch: Hurricane conditions (sustained winds greater than 74 miles per hour) are possible in your area within 36 hours.
Hurricane Warning: Hurricane conditions are expected in your area in 24 hours or less.
Additional Alerts in Coastal Areas
If you live in a coastal area, you should be aware of two other alerts. The Coastal Flood Watch lets people know that the possibility exists for land areas to be inundated with water within the next 12 to 36 hours. A Coastal Flood Warning indicates that land areas are expected to become or have already been inundated with water above the typical tide.
Stay Up-to-Date on Current Activity
It's important to have access to a battery-powered radio to keep current on issued watches or warnings, especially if you live in an area of high occurrence of tropical storms and hurricanes.
View more great articles from our Learning Center
The information contained in this page is provided for general informational purposes only. The information is provided by Foremost® and while we endeavor to keep the information up to date and correct, we make no representations or warranties of any kind, express or implied, about the completeness, accuracy, reliability, suitability or availability with respect to the articles or the information, products, services or related graphics, if any, contained in the articles for any purpose. The information is not meant as professional or expert advice, and any reliance you place on such information is therefore strictly at your own risk.