Weather Safety: A Storm's Aftermath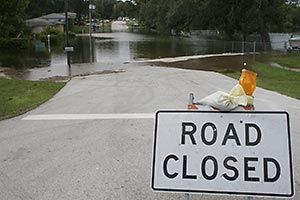 Just because the storm has passed does not mean you and your family are out of danger. There are simple safety rules to follow after a hurricane to keep you out of harm's way.
Wait for Clearance
First, wait until municipal authorities let you know it's safe to return to your mobile home.
In Case There's Flooding
If you encounter a flood situation, don't attempt to cross it. Eighty percent of flood deaths occur when people are in vehicles. Avoid danger by turning around or moving towards higher ground.
What to Take With You
Bring necessities with you like food, water and a disaster kit when you return to your mobile home.
Beware of hazards when it's safe to return:
Snakes or other animals could have been forced into your home by floodwaters.
Stay away from downed power lines.
Food spoilage and an unsafe water supply are common. It may be awhile before you can safely drink tap water.
To check if your mobile home has power after a hurricane, use a flashlight, not a candle. More deaths result in accidental fires than from actual natural disasters.
Checking Damage at Your Mobile Home
When you're assessing damage to your mobile home, wear sturdy clothes and protective clothing. Have a professional check your water, gas, electric and sewer lines. If your home has water damage, contact your local Red Cross chapter for information on repair. Also, consult your state Emergency Management Agency (EMA).
View more great articles from our Learning Center
The information contained in this page is provided for general informational purposes only. The information is provided by Foremost® and while we endeavor to keep the information up to date and correct, we make no representations or warranties of any kind, express or implied, about the completeness, accuracy, reliability, suitability or availability with respect to the articles or the information, products, services or related graphics, if any, contained in the articles for any purpose. The information is not meant as professional or expert advice, and any reliance you place on such information is therefore strictly at your own risk.