Save money by preparing for cold weather now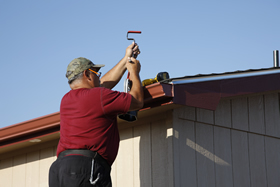 Caulk leaks
Polyurethane caulking is a good all-around choice for sealing your home from drafts and leaks. Caulk gutter and downspout seams, plumbing and furnace vent pipes, flashing seams between the roof and siding, door and window frames, along siding joints and around the dryer vent.
Seal the roof
Start by sweeping any debris off from the roof. Then, use a roof coating suggested by a local dealer or service center, and apply to a dry, clean surface. Repair any punctures, cracks or breaks and tighten or replace loose fasteners.
Inspect blocks and jacks
Examine the blocks or jacks that support your mobile home. If they're not in good condition, have them repaired immediately to prevent sagging, which can cause damage to windows, doors, joints and walls.
Loosen tie-downs
Slightly loosen your home's tie-downs if you live in an area where the ground freezes solid. Ground can "heave" as much as three inches during the winter and tie-downs leave no place for the mobile home to move. Remember to tighten tie-downs again in the spring.
Check skirting
Your home's skirting should be secure, but not so tight that it stops ventilation or vertical movement. Once winter sets in, be sure to shovel snow and ice away from the skirting to avoid denting and cutting off the air supply required by the furnace.
Tape pipes
One of the simplest ways to prevent water pipes from freezing is to wrap them with heat tape to keep the pipes warm. Use only automatic heat tape with heavy rubber insulation around the wires. Install according to the instructions. Not all heat tapes can be used over plastic pipes and never place them over thermal insulation or near flammable materials.
Now get those sweaters and hot chocolate ready so you can stay warm and cozy this season.
Click here for more great articles from our Learning Center
The information contained in this page is provided for general informational purposes only. The information is provided by Foremost® and while we endeavor to keep the information up to date and correct, we make no representations or warranties of any kind, express or implied, about the completeness, accuracy, reliability, suitability or availability with respect to the articles or the information, products, services or related graphics, if any, contained in the articles for any purpose. The information is not meant as professional or expert advice, and any reliance you place on such information is therefore strictly at your own risk.