Make your ride your own with modifications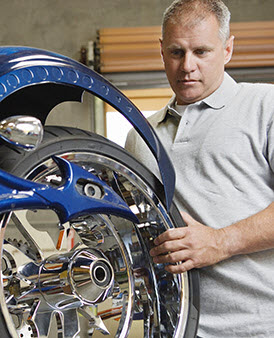 Many motorcycle owners like to personalize their bikes and make them unique; however, you can also make a few simple modifications to help your bike ride smoother and safer.
Modifications like frame sliders, engine guards and swing-arm spools all help keep your bike up and away from the ground in case of an accident or a tip-over.
New tires will help your bike handle better and prevent any blowouts.
Another simple modification is a custom windshield to fit your height. Windshields affect airflow and can slow your bike down if not adjusted properly, so upgrading can make your ride smoother.
The most popular modification is a new exhaust system and pipes. A new exhaust system can change the sound quality of your bike and add lots of eye-catching chrome.
Put safety first
Always make sure a modification doesn't compromise the safety of your motorcycle. And, if you don't feel comfortable making the change on your own, hire a professional who can make sure it's done properly.
Keep Foremost in the loop
It's important to remember, not every modification may be covered by your insurance policy or may require extra coverage. Let Foremost know before you make changes to your bike so your coverage can be adjusted if needed.
Get noticed
One of the benefits of customizing your bike is putting it on display for other riders to appreciate. What better place than a bike event? You'll get inspiration from other riders and find new vendors to help you modify your bike even more. Check out some of the most popular events for riders in America.

Daytona Bike Week – Florida
Rolling Thunder – District of Columbia
Americade – Lake George, NY
Laconia – New Hampshire
Sturgis Motorcycle Rally – South Dakota
Keep your eye on the AARP® Motorcycle Insurance Program from Foremost Facebook page to see great posts, photos and videos from all of these events.
Modifying your bike is a simple way for you to stand out from the rest of the pack. It's also a great way to make it safer, smoother and more fun to ride. Plus, you can enjoy showing it off to other riders!
Click here for more great articles from our Learning Center
The information contained in this page is provided for general informational purposes only. The information is provided by Foremost® and while we endeavor to keep the information up to date and correct, we make no representations or warranties of any kind, express or implied, about the completeness, accuracy, reliability, suitability or availability with respect to the articles or the information, products, services or related graphics, if any, contained in the articles for any purpose. The information is not meant as professional or expert advice, and any reliance you place on such information is therefore strictly at your own risk.