Make small rooms appear larger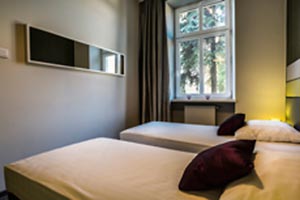 If you wish some of the rooms in your home were bigger, you're probably not alone. If renovation isn't an option, here are some tricks you can use to give the appearance of more space.
Choose light colors.
Lighter colors make a room look bigger and brighter. Soft colored walls and furniture are reflective making a space appear more open.
Accent with color.
If you want to add bold colors to your lighter walls, decorate with throws, pillows, rugs and photos. This will give your room some pop and allow you to easily change your colors without a complete remodel.
Let in the light.
Windows connect your room with the outdoors making it seem to stretch farther. Use thin sheer curtains to allow more natural light in.
Use mirrors.
Create the illusion of space with mirrors. They will add depth and reflect both natural and artificial light to make everything brighter.
Think vertical.
Not everything needs to touch the floor. Take advantage of wall space with shelving and hooks. Stacked or built-in appliances can also save space.
Remember, less is more.
Keep wall hangings and accessories to a minimum to maintain a sense of spaciousness.
Put function first.
Invest in furniture that serves more than one purpose or can be adjusted as needed. Examples include a dining table with removable leaves, an ottoman with built-in storage, or a tv stand with shelves.
Find an angle.
Place furniture at an angle and leave some breathing room around pieces to give the appearance of more space.
Round the edges.
Select pieces with rounded corners to allow more room to move around them.
Show some leg.
Exposed leg furniture gives the appearance of open and free space. Throw a chair or coffee table with bare supports into the mix.
Strike a balance.
Be careful not to use a lot of designs on accessories such as throw rugs. Too many patterns will make a small room look busy. The more floor that shows, the larger your space will look.
Click here for more great articles from our Learning Center
The information contained in this page is provided for general informational purposes only. The information is provided by Foremost® and while we endeavor to keep the information up to date and correct, we make no representations or warranties of any kind, express or implied, about the completeness, accuracy, reliability, suitability or availability with respect to the articles or the information, products, services or related graphics, if any, contained in the articles for any purpose. The information is not meant as professional or expert advice, and any reliance you place on such information is therefore strictly at your own risk.