Live where you love to ride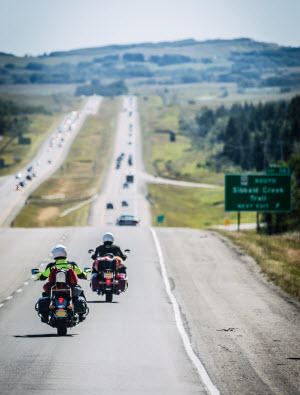 Different places around the country offer different types of riding excursions. Choose the locations that best match your riding style.
City vs. Country
The urban sprawl or open road is a matter of preference for most bikers. Each has its own challenges, so being prepared lets you enjoy either setting with your bike.
Riders who live in packed cities like New York or Los Angeles need to stay up-to-date on traffic laws and hazards. Avoid illegal lane splitting and construction zones that can lead to traffic violations or even accidents. Another urban challenge is parking. Crowded cities often lack garages, and street parking is not only expensive, but leaves your bike exposed to the elements and potential theft. Investing in a cable lock, steering lock and a disc lock can help secure your bike.
Motorcyclists in more rural areas face their own unique challenges. Make sure your bike is equipped with a working GPS system and a first aid kit in case of an emergency during those long rides in the backcountry. Riders in more secluded parts of the country can also find a lack of cell service, so make sure you let others know where you're riding before you head out on the bike. If you plan to be out for a while, determine where you can refuel. There's nothing worse than running out of gas and not having a signal for your phone.
Weather
Another big challenge motorcycle riders can face is the one most out of their control—the weather. Some areas lend themselves more to day-to-day riding, while others make riding a seasonal pleasure.
Top 10 Cities
So where do bikers like to ride? Take a look at the list below. Although some of these cities might experience seasonal weather patterns that make it difficult to ride, they were chosen for the number of riders in the area, their picturesque routes and rider-friendly traffic laws.

Fort Collins, Colorado
Sioux Falls, South Dakota
Boise, Idaho
Santa Clarita, California
Overland Park, Kansas
McKinney, Texas
Santa Rosa, California
Oxnard, California
Cary, North Carolina
Chula Vista, California⚹
Now that you know where other motorcyclists most like to ride, think about your own preferences for an enjoyable motorcycle journey. If motorcycling is your passion, it may be worth looking into locations that let you embrace it and the freedom of the open road.
Check out this info on autumn road hazards
Will you be on the road reveling in the fall season with your bike? If so, be sure to check out this article on how to avoid autumn road hazards.
⚹ "The Best Cities for Motorcycle Owners" Web article smartasset.com Web Wallace, Nick March 9, 2016 ( https://smartasset.com/personal-loans/best-cities-for-motorcycle-owners)
Click here for more great articles from our Learning Center
The information contained in this page is provided for general informational purposes only. The information is provided by Foremost® and while we endeavor to keep the information up to date and correct, we make no representations or warranties of any kind, express or implied, about the completeness, accuracy, reliability, suitability or availability with respect to the articles or the information, products, services or related graphics, if any, contained in the articles for any purpose. The information is not meant as professional or expert advice, and any reliance you place on such information is therefore strictly at your own risk.