Safety Tips for Group Motorcycle Riding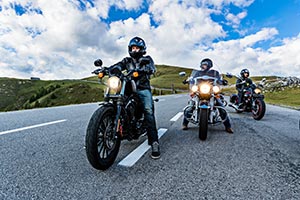 One of the greatest experiences you can have is riding with others who share your love of motorcycles. However, group riding requires certain accommodations. Here are some suggested guidelines we've gathered to help you enjoy your trip and get back home safely.
Meet ahead of time.
Make decisions like who will lead and tail the group, what route to take, any planned stopping points along the way and what to do if you get separated. The chosen leader and tail rider should be among the most experienced. If you have more than seven riders, consider breaking into separate groups.
Be prepared.
Designate someone to carry a first-aid kit - preferably the rider with the most knowledge of administering aid. Equally important, make sure someone brings a tool kit for any needed repairs. All riders should carry a cell phone.
Ride in a staffered formation.
In this pattern, the leader is typically on the left side of the lane, rider two is behind on the right side of the lane, rider three is positioned behind that to the left and so on. This allows space on the side of each rider in case there's a need to move quickly for a road hazard. Leave at least a two-second gap behind each rider. This allows everyone to monitor oncoming traffic and see any debris in the road.
Communicate.
It's important that everyone in the group knows when the leader is going to turn, change lanes or make an unplanned stop. In order to communicate with the group for messages that can't be seen (such as blinkers), all riders should know these common hand signals.
Heed caution at intersections.
When at a red traffic light, two-way or four-way stop, it may be appropriate to line up side-by-side. Once the light turns green, proceed one at a time and return to formation as you pull away. When crossing as a group, take great care, and always put your personal safety above all else. NOTE: When making left turns, you should remain single file and proceed only when it's safe and legal.
Taking care changing lanes.
Experienced leaders will try to wait until there's enough of a break for the whole group to change lanes. If that's not possible, each rider should move over individually and return to position in the new lane. It's important to maintain your speed so everyone can get over in a timely manner.
Pass with care
If there's a need to pass a vehicle, do so one at a time. The leader should start, with each successive rider going next. When it's your turn, position yourself in the left third of the lane until it's safe to go (check your mirrors). If you can't pass with the group, stay in the staggered position until another opportunity arises.
Stay flexible.
Even though there are basic guidelines to follow during a group ride, there will be times you need to briefly change things up. For example, when you're getting on or off the highway or when going around curves, it's best to ride single file and go back into formation once it's safe.
Additional tips
Inspect your tires, brakes and lights the day before your ride to make sure everything is in working order.
Fill up your gas tank so you aren't the reason everyone has to make a fuel stop.
Pack your owner's manual, license, registration, cell phone and a flashlight.
Consider the skill level of every rider and keep your speed at a level that everyone is comfortable with
If you're having trouble keeping up with the group, inform the leader as soon as possible so the pace can be adjusted.
Maintain your position in the formation until you come to a break. At that time, you can discuss changing places with someone else.
Stay focused on everything going on around you and relay all signals to the rider behind you.
Now get out on the road with some family or friends, stay safe and ride on.
arrow_back View more great articles from our Learning Center
The information contained in this page is provided for general informational purposes only. The information is provided by Foremost® and while we endeavor to keep the information up to date and correct, we make no representations or warranties of any kind, express or implied, about the completeness, accuracy, reliability, suitability or availability with respect to the articles or the information, products, services or related graphics, if any, contained in the articles for any purpose. The information is not meant as professional or expert advice, and any reliance you place on such information is therefore strictly at your own risk.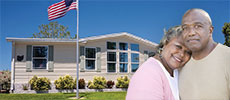 Great Mobile Home Rates
Get affordable coverage designed just for mobile homes with the AARP Mobile Home Insurance Program from Foremost.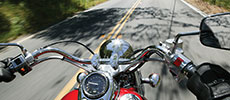 Specialized Motorcycle Coverage
Protect your bike with a policy just for AARP members.
Learn more about motorcycle coverage from Foremost.

Refer A Friend
Have a friend who may benefit from a Foremost policy?