What to do when the rain hits while you're on the road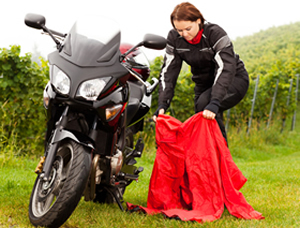 What helps you salvage a ride that gets interrupted by rain? Three main things — caution, good rubber and rainwear.
Ride with caution — especially when the rain first starts
The most dangerous time for riding in the rain is the first 15 minutes. That's when the combination of moisture with all the road residues creates a surface with about as much traction as a water slide. Sometimes this effect may last as long as an hour.
Watch for standing water and slick spots
Another concern in the rain is water's tendency to pool in every little sump or swale. Standing water is not your friend. Watch for it and avoid it.
Road striping of all types can also create some very slick spots during rain events, as can manhole covers, train tracks and wet concrete.
Choose those tires carefully
Given all these potential trouble spots, good tires are essential. Even year-old rubber, especially if it has a lot of miles on it, can put you at a disadvantage. Today's radials are engineered to handle some difficult stuff and siping patterns can help slice through some standing water, but it's best to avoid it if possible.
Select the right outerwear
As with many outdoor enthusiasts, some motorcyclists live by the old saying, "there's no such thing as bad weather, just bad clothes." The moral is that good rainwear can save the day.
Stay visible
One of the first things to consider when checking out rain gear isn't its waterproof attributes. It's all about visibility. Because rainy days are often dull and dark, it's vital to make sure you can be seen. High visibility, daylight fluorescent colors and reflective fabrics are among your best bets. And, to help you see the road, install an anti-fog insert in your helmet's visor.
Look for waterproof rain gear
When it comes to staying dry, look for the promise of waterproof materials and some telltale indicators such as seams that are sealed, taped or double-stitched. Be certain to try it on over your usual road gear to make sure there's plenty of room to maneuver. Look also for design features at the wrists and ankles that give lots of protection against leakage at the transition points with gloves and boots.
arrow_back View more great articles from our Learning Center
The information contained in this page is provided for general informational purposes only. The information is provided by Foremost® and while we endeavor to keep the information up to date and correct, we make no representations or warranties of any kind, express or implied, about the completeness, accuracy, reliability, suitability or availability with respect to the articles or the information, products, services or related graphics, if any, contained in the articles for any purpose. The information is not meant as professional or expert advice, and any reliance you place on such information is therefore strictly at your own risk.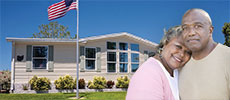 Great Mobile Home Rates
Get affordable coverage designed just for mobile homes with the AARP Mobile Home Insurance Program from Foremost.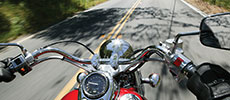 Specialized Motorcycle Coverage
Protect your bike with a policy just for AARP members.
Learn more about motorcycle coverage from Foremost.

Refer A Friend
Have a friend who may benefit from a Foremost policy?