Decorating for Fall on a Budget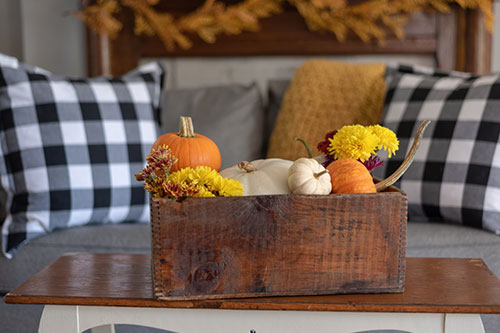 When the air feels crisper, the leaves start changing and the pumpkin spice products make their reappearance in stores … you know the best time of the year has arrived: fall! One of the best parts of fall is the food, the warm cider and of course … decorating your home! Changing up your home décor is always fun reminder to enjoy the seasons changing, and can make your space feel a little cozier. However, it can get a little pricey if you don't take advantage of DIY projects. Here's some easy and inexpensive ways to brighten up your home for autumn!
Collect pinecones from outside and place them around your house where it makes sense. Places like on a table, built in shelves, or place them in a mason jar and put it on display. If pinecones aren't an option, you can also collect acorns!
Buy affordable faux decorations at a local crafts store or thrift store. Look for leaf garlands, plastic pumpkins or silk flowers that go with your fall theme.
Place a stack of hay next to your mailbox or porch railing.
Lay some seasonal gourds on a tray for a unique table centerpiece.
Shop for your pumpkins locally! Generally, pumpkins are very affordable and a perfect display piece for your porch or inside your home.
DIY your wreath. Get a wreath form and some colorful, artificial flowers to attach to it, using a glue gun or florists wire you can create a welcoming addition to your front door.
Place a cinnamon broom in the entryway of your home. This will make your house smell like autumn without spending money on expensive candles. Along with the pleasant smell, it goes well with the rest of your fall décor!
Collect colored leaves, then cut two equal pieces of wax paper and brush them with glue. Arrange the leaves onto the glue on one piece of wax paper. Then cover with the other sheet and press together to stick. You can frame it for your wall or hang in a window.
No need to go out and buy new throw pillows — switch out your pillow cases for a more festive look! You can look for pillowcases that will fit the season online or at your local thrift store. Then, when autumn is over, all you need to do is swap the pillowcases out again.
Once you've redecorated your space, don't forget to relax and enjoy this time of year!
arrow_back View more great articles from our Learning Center
The information contained in this page is provided for general informational purposes only. The information is provided by Foremost® and while we endeavor to keep the information up to date and correct, we make no representations or warranties of any kind, express or implied, about the completeness, accuracy, reliability, suitability or availability with respect to the articles or the information, products, services or related graphics, if any, contained in the articles for any purpose. The information is not meant as professional or expert advice, and any reliance you place on such information is therefore strictly at your own risk.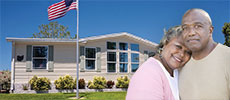 Great Mobile Home Rates
Get affordable coverage designed just for mobile homes with the AARP Mobile Home Insurance Program from Foremost.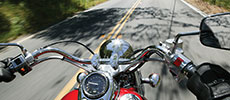 Specialized Motorcycle Coverage
Protect your bike with a policy just for AARP members.
Learn more about motorcycle coverage from Foremost.

Refer A Friend
Have a friend who may benefit from a Foremost policy?