Choosing a Motorcycle Saddlebag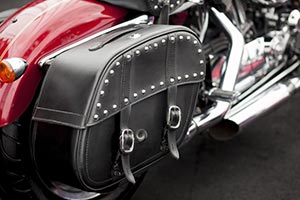 At the speed a motorcycle travels in the harsh outside environment, it's important to have dependable luggage. A saddlebag offers the luxury and convenience to pack your essentials in a place that is spacious, durable, convenient and secure. Made specifically for motorcycles, they won't restrain movement when you're maneuvering your bike, and they won't get in your way while you're driving. They're made to endure a lot of weight and provide more space for your belongings than a backpack. Here are some options to consider when choosing a saddlebag:
Material
There are basically three kinds of material: hard, soft and leather.
Hard bags are made of tough plastic, fiberglass, aluminum or stainless steel and mount to your bike with permanently-attached brackets. They are typically waterproof, easy to detach and offer considerable space. They're a great option to keep your belongings safe and dry; however, it may be tough to find a bag that will fit your motorcycle without modifications.
Soft bags are made with durable types of nylon, polyester and other synthetic fabrics, and come in a variety of shapes and sizes, so there are options for almost any type of bike. Most will fit on your motorcycle without you having to make any adjustments, but there are a few things to consider when compared to a hard bag. Most soft saddlebags are water resistant at best, so they typically come with a rain cover to help keep your items dry. Many attach to your bike with straps you have to tighten down to keep everything in place. And if the bag is close to your muffler, be sure it has heat shields to protect it from the hot metal and exhaust.
Leather tends to be the material of choice for cruiser-style motorcycle riders. Fitting somewhere in between hard and soft saddlebags, leather bags come in a wide variety of designs with options such as lockable covers, quick-release buckles and steel reinforcements to keep leather from sagging. Some even attach to your bike with hard mounting brackets. Due to all the variations, these come at a variety of price points where you'll most likely get what you pay for.
Size
The size of bag depends on how big your motorcycle is. You'll want a bag large enough to hold your gear, tools and other accessories, but not so big that it gets in the way of you operating your bike.
Locks
Look for bags that lock, so you won't have to mount and unmount your luggage every time you walk away from your bike.
Mounting
Do you want the bag to mount on your bike? If so, make sure mounting hardware or detailed instructions come with your saddlebag. Anything else may not be safe.
Color
Since your luggage is out in the open, coordinate the color of your bag to your bike to enhance the overall look.
Before you make a final decision, ask yourself the following questions:
Will the bag stay on my motorcycle all the time?
How much do I need to fit inside the bag?
Will I only need to fit my belongings, or will I ever have a passenger?
How long are my average road trips?
Will I feel safe leaving my bike and luggage unattended for a few minutes?
What type of bag and color will look good on my ride?
Once you've determined what will work best for your lifestyle, pack up your new saddlebag and take a ride!
arrow_back View more great articles from our Learning Center
The information contained in this page is provided for general informational purposes only. The information is provided by Foremost® and while we endeavor to keep the information up to date and correct, we make no representations or warranties of any kind, express or implied, about the completeness, accuracy, reliability, suitability or availability with respect to the articles or the information, products, services or related graphics, if any, contained in the articles for any purpose. The information is not meant as professional or expert advice, and any reliance you place on such information is therefore strictly at your own risk.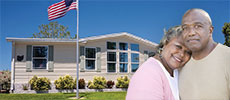 Great Mobile Home Rates
Get affordable coverage designed just for mobile homes with the AARP Mobile Home Insurance Program from Foremost.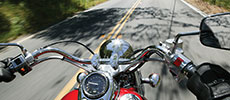 Specialized Motorcycle Coverage
Protect your bike with a policy just for AARP members.
Learn more about motorcycle coverage from Foremost.

Refer A Friend
Have a friend who may benefit from a Foremost policy?