Keep coverage year round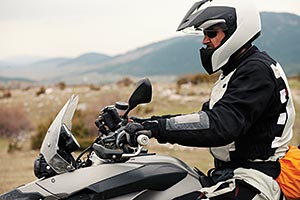 Even if you live in an area with snowy winters, it's important to keep year-round coverage on your motorcycle. Here's why:
There's no off-season for theft or vandalism.
The most likely time for your bike to get stolen or vandalized is when it isn't in use.
Natural disasters happen.
Even while your motorcycle is in storage, it's still vulnerable to damage from natural disasters or an unforeseen event. Many off-season claims are due to flooding, fire and storm damage.
You're still liable.
Even if no one is driving the bike, you're still responsible for accidents and injuries that occur near or on your motorcycle. Insurance can help keep you from having to pay expensive medical bills.
You can ride anytime.
There are usually several days during the off-season that are perfect for riding. If you have insurance, you can jump on your bike and take a spin.
It may save you money.
It can actually be cheaper in the long run to keep insurance year round. Features such as Diminishing Deductible and First Accident Waiver provide rewards for those with continuous claim-free coverage.
Off-season pricing.
Foremost takes into account that you may not drive your bike as much during the winter and adjusts your policy price to include the off-season.
Click here for more great articles from our Learning Center
The information contained in this page is provided for general informational purposes only. The information is provided by Foremost® and while we endeavor to keep the information up to date and correct, we make no representations or warranties of any kind, express or implied, about the completeness, accuracy, reliability, suitability or availability with respect to the articles or the information, products, services or related graphics, if any, contained in the articles for any purpose. The information is not meant as professional or expert advice, and any reliance you place on such information is therefore strictly at your own risk.