It's time for a memorable motorcycle road trip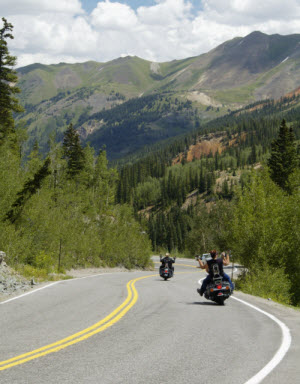 Packing right, deciding whether to ride your bike the entire way or trailer it, and selecting the perfect scenic route are all part of creating the motorcycle vacation of your dreams. These tips will help you avoid potential bumps in the road.
Packing right
Weather conditions can change. Road closures can happen. It's always better to over prepare before you take your bike out. Plan your route ahead of time and bring the right equipment to fit the location. Remember to bring a flashlight with extra batteries, an emergency first aid kit, bad-weather gear, a motorcycle cover, water bottles, a toolkit and even a few snacks in case you run into any problems while on the road.1 Be careful not to over-pack. If the weight of all your belongings is too much, it can affect your balance.
Transporting your bike
If you're not planning on riding your bike to your vacation spot, there are different ways of getting it to your destination safe and sound. Most motorcycle owners use a shipping company specifically for bikes when traveling. Research a few different companies online to make sure they can transport your model of bike and see what regulations will apply.2
If you're more of a do-it-yourselfer, you can transport your bike on your own trailer or one you rent. Make sure your trailer hitch is in good condition with all lights and connections working. Also, the hitch system should match your bike's towing specs. You'll need to secure your bike with tie-down straps attached to the front and rear.3 Keeping to a lower speed is one of the most important safety considerations when you're hauling a bike on a trailer, so don't be tempted to hit the gas pedal too hard.
You made it. Now what?
When you finally make it to your destination, spot check your bike to make sure your tires and brakes are in perfect condition and that your bike doesn't need any quick repairs. Look into local traffic conditions and motorcycle laws before you go exploring the new terrain. And, remember to map out your ride so you don't run into any unexpected construction zones, traffic jams or closed roads.
Best places to ride
You may already have an amazing route in mind. If not, check out this list of the most popular stretches of pavement for riders in the USA:
Pacific Coast Highway – California
Peak to Peak Highway – Colorado
Blue Ridge Parkway – North Carolina & Virginia
Tail of the Dragon – North Carolina & Tennessee
Beartooth Highway – Montana & Wyoming
Going-to-the-Sun Road – Montana
Coastal Route One – Maine
Grand Staircase – Utah
Natchez Trace Parkway – Tennessee, Alabama & Mississippi
River Road – Texas4
Taking your bike with you on vacation is one of the best ways to enjoy your time away. Whether you're riding on the open road or transporting your bike, plan ahead, don't over-pack, and make sure everything is in good working order.
Make Americade® or Laconia your next motorcycle vacation
Check out Americade the first week of June in beautiful Lake George, New York. Immediately following, ride on up to picturesque Laconia, New Hampshire to experience the oldest rally in the U.S.
If you can't make these events in person, follow the AARP® Motorcycle Insurance Program from Foremost Facebook page to keep up on all the action!
1 Best Motorcycle Checklist – Must Haves For Long Distance Rides + How To Pack Motorcycle Luggage and Saddlebags | The Travel Guide. (n.d.). Retrieved from https://travel.thefuntimesguide.com/motorcycle-checklist/
2 Transporting Your Motorcycle | DMV.org. (n.d.). Retrieved from http://www.dmv.org/how-to-guides/motorcycle-transport.php
3 Securing Your Bike For Transport – Trailering Tips | Motorcycle Cruiser. (n.d.). Retrieved from http://www.motorcyclecruiser.com/securing-your-bike-transport-traileringtips
4"Top Ten Motorcycle Rides in the U.S." Web article National Geographic Baker, Christopher P. Web May 12, 2015 http://www.nationalgeographic.com/travel/top-10/motorcycle-rides-in-us/

Click here for more great articles from our Learning Center
The information contained in this page is provided for general informational purposes only. The information is provided by Foremost® and while we endeavor to keep the information up to date and correct, we make no representations or warranties of any kind, express or implied, about the completeness, accuracy, reliability, suitability or availability with respect to the articles or the information, products, services or related graphics, if any, contained in the articles for any purpose. The information is not meant as professional or expert advice, and any reliance you place on such information is therefore strictly at your own risk.