How to Plan a Terrific Tailgate Party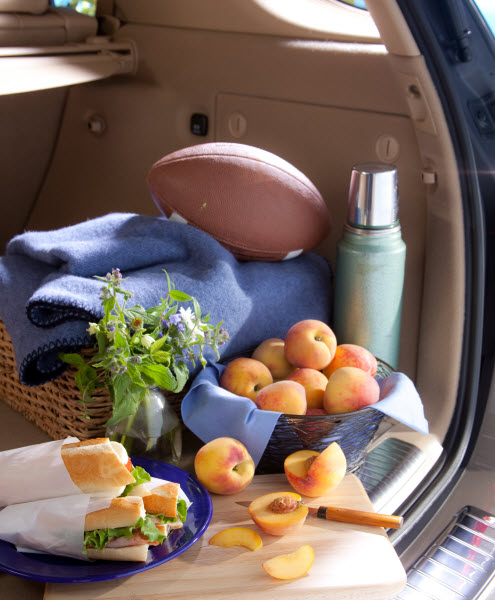 Enjoy your fall game time to its fullest with a tailgate party for you and your friends. These tips will help things go smoothly:
Add to your décor for the day by using paper plates and drink cups in your school or team colors. Check your local restaurant supply store for colorful plates and all types of disposable ware.
Buy paper wrappers for finger foods to make serving and clean-up easier.
If you're heading to the stadium for the day, you may need knives, tongs, cutting boards and plastic wrap, as well as a cooler with ice or ice packs for keeping food safe.
Bring disinfecting wipes and a trash bag or two to clean up the mess. If you have reusable plates or other dishes, bring some sealable plastic bags to slip them into for the trip home to the dishwasher.
What to Eat
Finger foods and hand-held foods are easy to eat, whether you're tailgating at the stadium before the game or grouped around the TV watching the action.
Burgers and brats are classic tailgate foods but why not take a different approach? You can keep it simple but varied with salsa and chips, guacamole, and herb or artichoke dips that you buy or make. Vegetable kabobs are easy to hang onto and taste great when grilled as well. And don't forget the snack mixes and nuts.
If you want to serve something more substantial, consider wraps that are easy to hold and eat and can be filled with a variety of ingredients and salad dressings.
Doing a pot luck tailgate can significantly cut down on your work and add an interesting variety to your meal.
Safety tip: avoid mayonnaise-based salads, store any type of perishable foods in a cooler so they stay safe on the way to and from the game, or toss leftovers after everyone is done eating.
More things to think about
If you're having a tailgate party at home, set up snack stations.
For parking lot tailgates, encourage people to bring their camping chairs.
If you're going to grill out at a stadium, find out if the venue or the municipality has rules that restrict grill use.
Check the weather. If it's going to be a rainy day and you'll be at a stadium, opt for make-ahead foods you can eat in the comfort of your car.
Most of all relax, enjoy your guests and cheer your team on to victory!
Click here for more great articles from our Learning Center
The information contained in this page is provided for general informational purposes only. The information is provided by Foremost® and while we endeavor to keep the information up to date and correct, we make no representations or warranties of any kind, express or implied, about the completeness, accuracy, reliability, suitability or availability with respect to the articles or the information, products, services or related graphics, if any, contained in the articles for any purpose. The information is not meant as professional or expert advice, and any reliance you place on such information is therefore strictly at your own risk.