How to Make a Flower Garden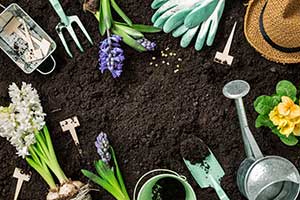 If you have been wanting to start a garden, now is the time! The long, sunny days are a great source of energy for plants, making summer the perfect season to start growing flowers. Any home could use a pop of color. Whether you are a seasoned gardener or a beginner, it can be helpful to cover the basics. From sunlight to soil, there are a lot of choices that must be made in order to create a successful flower garden, but hopefully this guide will help you through the process with just five easy steps!
Step One: Choose a Location
The first step is deciding where you would like to plant your flower bed. Most people make flower beds along the front or the side of their house, but feel free to get creative with it. You could create a garden around the base of a tree, around your mailbox, or you could use flowers to hide certain objects in your yard such as electrical equipment or pipes.
Sunlight is important to consider when choosing a location. Depending on the flowers you choose, they could need up to six hours of sunlight. It is important to read the labels of any seeds or plants that you buy to ensure that the location will be able to provide necessary amounts of sunlight.
Step Two: Choose your Flowers
Different flowers will flourish in different climates and different types of soil. Temperatures and day length play a key role in the photosynthetic cycle. Depending on what region you live in, some flowers may not be able to grow. The country is divided into climate zones. Research what plants suit your climate zone, or ask for help at a local plant nursery! They will be able to help you choose the right flowers to make your garden successful.
Step Three: Remove the Grass
Once you have picked a location, it's time to prepare the soil. Begin by removing the grassy layer. With a shovel, start digging in the center of the designated area. Continue to lift the sod with your shovel until all grassy parts have been removed.
If you are not able to maneuver a shovel, there is another option. Although it is a longer process, it's far less labor-intensive. Instead of digging up the grass layer, set newspapers over the entire area. Cover the newspapers with rich planting soil or compost and, in four or five months, the grass will have died and the area will be ready for soil preparation.
Step Four: Prepare the Soil
The next step is to add planting soil on top of the garden bed you have just prepared. When choosing one of the six soil types, consider what types of flowers or plants will be living in the soil. Each plant grows better in a certain type of soil. Be sure to research which type of soil will be best for your flowerbed before you begin planting.
Soil does its best when it is loose and breathable. Before you add the soil, break up any clumps of dirt and remove rocks. Lay down six inches of soil. Do not apply too much pressure to the soil; packing it down will increase the density, making it difficult for air and water to reach the roots. Once the soil is down, create an edge with rocks or bricks to separate the garden from the grass.
Step Five: Plant the Flowers
Before you begin planting, make sure that the soil is ready. You want the soil to be moist but loose. If you are planting seeds, look at the packet to see how deep they should be planted. Seeds need oxygen in order to germinate – planting them too deep can inhibit growth.
Begin by digging a hole; for most plants, you want the hole to be about ¾ the size of the pot. Once you have taken the plant out of the pot, gently remove and discard the excess dirt from the roots. Set the roots in the hole you prepared, and gently push topsoil back into the hole, but do not press down. The soil needs to remain loose and full of oxygen.
Now that you have your flower garden, remember to take care of it! Some areas may have enough rain to nourish the plants naturally. If you live in a dry area, you will need to water your flowers between rain storms to make sure that they are healthy.
Happy summer, and happy planting!
Click here for more great articles
The information contained in this page is provided for general informational purposes only. The information is provided by Foremost® and while we endeavor to keep the information up to date and correct, we make no representations or warranties of any kind, express or implied, about the completeness, accuracy, reliability, suitability or availability with respect to the articles or the information, products, services or related graphics, if any, contained in the articles for any purpose. The information is not meant as professional or expert advice, and any reliance you place on such information is therefore strictly at your own risk.