Eco-Friendly Holiday Tips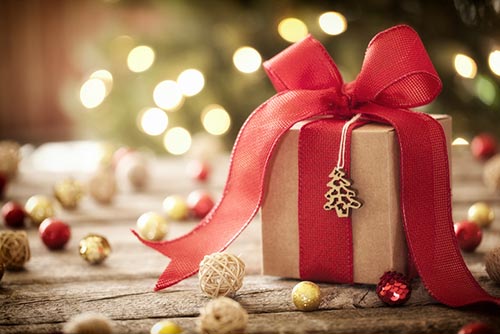 Did you know that Americans produce more trash during the holidays than any other time of year? 25% more, to be exact.1 Between the wrapping paper, disposable plates and silverware, Christmas trees and cards, cardboard boxes and plastic shopping bags – it's hard to keep track of everything you may dispose of during those busy months. Glittery décor and disposable items may bring joy and convenience, but they also have an impact on the environment. If you're trying to produce less waste and recycle more, here's a few easy ways to be more environmentally friendly this holiday season!
Use eco-friendly wrapping paper. Since most wrapping papers contain dyes, laminations or glitter, they are deemed non-recyclable and will head straight to the landfill. Wrap your presents with newspapers, paper bags – or make the wrapping part of the gift! You can use scarves, blankets or even reusable shopping bags.
Cut down on the food you buy. We all want to make sure our family has enough to eat, but when you over-estimate how much you'll need, that food may end up in the trash. Before you make a meal, try using a serving calculator to estimate how much food you need for your feast. If you still have extras, plan to freeze the rest for later use.
Keep up with your bottle returns. If you live in a state where you can return your bottles or cans for deposits, be sure to keep up with it so they don't pile up! If you don't feel comfortable returning them yourself due to COVID-19, ask a family member or a neighbor if they will return them for you, or give them away to someone in need.
Buy a non-traditional gift. Instead of buying more "stuff," buy a gift that will give your friends and family memories! Consider a gift card to an online virtual event, a relaxing day at a spa for the future, or a unique shopping experience from the comfort of their home. They will appreciate the gesture and maybe even steal the idea for next year. Looking for other options? How about some food! Dessert recipes in a mason jar with all the ingredients inside work fantastically. You could also bake fun holiday cookies!
Properly dispose of cardboard boxes. There is always an abundance of cardboard boxes during the holidays and it's important to recycle them. If you have a recycling waste bin, make sure to break down the boxes before recycling day. If you don't own a waste bin, call your local recycling center and see where you can drop it off. Other ways to recycle boxes are asking a friend or a local community center if they would be useful to them, or putting them in storage if you think you'll need them later!
Use LED lights for your home. Traditional incandescent and florescent bulbs use a ton of energy to light up your house each night. LEDs are up to 80% more efficient and last 10 times longer than traditional lights.2 Plus, since they have a better light quality, a little goes a long way! You'll still get that bright and cheerful look at night without the added environmental cost. If you own old lights you would like to recycle, call your county's recycling and waste center to see what they're accepting.
Recycle your tree after the holidays. Call your local recycling centers to see if they accept Christmas trees. Just drop it off and they'll take care of the rest. Most of the time, the trees are chipped into mulch and used for public outdoor areas or parks.3 Not only are you safely disposing of the tree, you're also giving back to the community!



If you want to repurpose your tree, consider turning it into a bird sanctuary. Just place your tree in your backyard and hang up bird feeders from the branches. When spring arrives you can always chop up the tree, where the wood can later be used for mulch.
https://www.sepco-solarlighting.com/blog/bid/145611/The-Advantages-of-LED-Lights-for-the-Environment
View more great articles from our Learning Center
The information contained in this page is provided for general informational purposes only. The information is provided by Foremost® and while we endeavor to keep the information up to date and correct, we make no representations or warranties of any kind, express or implied, about the completeness, accuracy, reliability, suitability or availability with respect to the articles or the information, products, services or related graphics, if any, contained in the articles for any purpose. The information is not meant as professional or expert advice, and any reliance you place on such information is therefore strictly at your own risk.