Creative Ways to Entertain Grandkids this Summer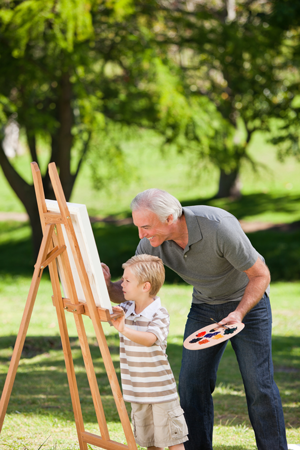 Whether you're planning for a visit or helping with the summer care for your grandchildren, keeping them interested and active is always a challenge. How do you vary the routine enough to keep it fun without relying too heavily on screen time? Here are a few ideas:
Nature Walks
Are there trails in your area? Do you have a botanic garden you can visit with the grandchildren? When you explore nature together, you create a special bonding experience and foster a sense of togetherness with your grandkids.
The key to making nature hikes successful? Keep them fun, take them somewhere interesting to walk and don't push the kids too hard. If you're a regular walker, you may think nothing of doing three or four miles, but start kids at a mile or two and observe their interest.
Think about what you liked to do as a kid - climbing on (and sitting on) rocks, wading and playing in streams and trekking up and down hills. Yes, this might be a shorter walk than your regular three miles in the neighborhood, but choose the right location and both you and the kids will get a real workout.
Safety is key. While you don't want the kids staring at their phones while they walk, make sure you carry one for emergencies. And take along snacks, water, sunscreen, a pocket knife, compass and binoculars. Be sure you have a trail map, too, if you're headed into unfamiliar territory.
Plein Air Painting
Plein Air Painting (the French term "Plein Air" means "Open Air") is creating a work of art outside. Typically, this means creating a painting outside in one sitting using the subject matter in front of your eyes. This is a project that's best done with older grandchildren. For the younger ones, an outside painting adventure might be finger painting at the table on your deck or patio.
For older kids, you'll need to do some preplanning for a successful plein air painting session. While the location could be your backyard, a change of scenery will be fun. One option is a local park. If you're lucky enough to live near a beach, this may be a great place to set up with the kids. You could see a few other plein air painters at work.
You'll need to gather up and bring the art supplies: easel, paper or canvas, paints, painting smock and something to clean up with. (If you don't have an easel, look online for how to make a home-made alternative.) Snacks, water and a sack lunch are also good ideas. Be prepared to snap a few photos in case their attention span doesn't lend itself to completing a painting in one sitting.
Other Great Activities
The choices are almost endless. Help the kids create a puppet show, plan a scavenger hunt in the neighborhood, go to the zoo or a U-Pick farm, play miniature golf, take local tours (if available) of the firehouse or police station, and visit local art galleries or museums. Reading books on the deck or patio, or teaching the young ones how to play a game like chess, can be great ways to create togetherness as well.
Whatever you do this summer, be sure to take lots of photos and create a scrapbook of memories at summer's end.
Click here for more great articles from our Learning Center
The information contained in this page is provided for general informational purposes only. The information is provided by Foremost® and while we endeavor to keep the information up to date and correct, we make no representations or warranties of any kind, express or implied, about the completeness, accuracy, reliability, suitability or availability with respect to the articles or the information, products, services or related graphics, if any, contained in the articles for any purpose. The information is not meant as professional or expert advice, and any reliance you place on such information is therefore strictly at your own risk.