Cold Weather Motorcycle Riding — Yes, it can be done!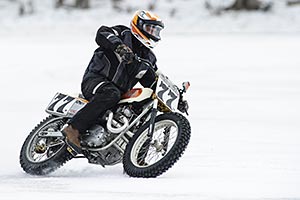 If you want to extend your motorcycle riding season, there are ways to defend yourself against the cold so you can still enjoy your ride. If snow is on the way or covering the roads, wait until the forecast and the streets are clear, and then try these ways to stay warm:
Block the wind.
A tall windscreen set to the highest position will provide protection from cold wind. If your bike doesn't have one, even mounting a small windshield on your handlebars will help by diverting the wind from your chest. Be sure to wear a tightly sealed helmet with a fog-free face shield.
Layer exterior garments.
It's best to wear a full coverage jacket and pant combo or suit that's water and wind proof. Wear gauntlet-style gloves that fit over your jacket. Choose boots that are also wind and waterproof. Make sure they're above the ankle and that they're not too tight, which can reduce circulation and make your feet colder. If you ride often in cold weather, you may want to invest in some of the electric gear available for vests, jackets, pants and gloves.
Prepare your bike.
If your bike is water-cooled, make sure the antifreeze is fresh and check that all hoses are in good shape. Use tires with sufficient tread and check tire pressure before every ride. Consider heated grips and a heated seat for your bike if you don't already have them.
Stay hydrated and fed.
Cold, dry air can draw moisture from your body so drink lots of water. Make sure you don't skip any meals before you ride. Your body generates heat as you digest which will help you keep warm.
Play it safe.
Ride only when the temperatures allow you to stay warm with the gear you wear. Make sure no skin is exposed, or it will be at risk of frostbite. If you start to feel like you are being pricked by needles, it's time to get off your bike and warm up. Make it a rule to pull over and take a break whenever you start to feel cold or sluggish, or if you start to shiver. Have a warm beverage and a snack or meal. A short walk can also help warm you up.
Click here for more great articles from our Learning Center
The information contained in this page is provided for general informational purposes only. The information is provided by Foremost® and while we endeavor to keep the information up to date and correct, we make no representations or warranties of any kind, express or implied, about the completeness, accuracy, reliability, suitability or availability with respect to the articles or the information, products, services or related graphics, if any, contained in the articles for any purpose. The information is not meant as professional or expert advice, and any reliance you place on such information is therefore strictly at your own risk.