Check for roof leaks before they sneak up on you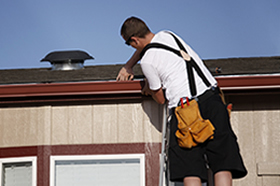 Damage from roof leaks is one of the most common mobile home repair concerns. An even bigger concern is whether the damage the leak causes is covered by insurance. Too often it isn't because the damage caused by a leak happens slowly, over time and insurance policies only cover damage that's direct, sudden and accidental.
Don't let this happen to you.
Whether you have a metal roof or one with shingles, now is a great time to check it over. Then, when winter does arrive you'll have the comfort of knowing your roof is in top condition!
By making a regular check of your roof in fall and again in spring, you'll be able to keep up with roof maintenance and help prevent water leak damage before it starts.
To check your roof follow these steps:
Clear your roof (metal or shingled) of any debris
Check the roof covering for damage
If you have a shingled roof check for cracked, curled or missing shingles
If you have a metal roof check both for roof damage and to see if the roof seams are tightly sealed
Check the seals around the roof vents and pipes
If any seams or seals need repair use a good quality silicone sealant before applying a roof coating
Fall is a perfect time for roof inspections as daily temperatures in most parts of the country are in a range where an application of roof coating, if needed, will adhere well.
Click here for more great articles from our Learning Center
The information contained in this page is provided for general informational purposes only. The information is provided by Foremost® and while we endeavor to keep the information up to date and correct, we make no representations or warranties of any kind, express or implied, about the completeness, accuracy, reliability, suitability or availability with respect to the articles or the information, products, services or related graphics, if any, contained in the articles for any purpose. The information is not meant as professional or expert advice, and any reliance you place on such information is therefore strictly at your own risk.