High-tech updates that make your home more efficient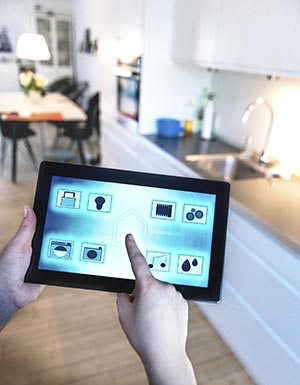 Outlets
Replace a few of your existing power outlets with USB power outlets, so you can recharge your e-Reader or smartphone, while leaving your coffee pot plugged in.
Home Lock
Know someone who's prone to losing their keys? Install a keyless entry system with a keypad or one that can be opened remotely using your smartphone.
Lights
Does the same person always leave the lights on? Save money on electricity by installing light switches with motion sensors or LED bulbs. If you want to go more state-of-the-art, the latest smart bulbs can connect to your Wi-Fi and can be turned on/off remotely.
Thermostats
Save money on heating and cooling with a smart thermostat. Some units learn what temperatures you prefer and set a schedule on their own. And they too can be controlled remotely with a smartphone.
Security Systems
Install a whole home security system to get peace of mind. Today's systems monitor more than you think — everything from intruders to flooding. And some enable you to log in remotely to turn on/off the security system, lights and more.
Smoke Detectors
If you haven't updated your detectors in a while, now is a good time. Some units communicate with each other, so if one detects smoke in your kitchen it will alert the unit in your bedroom.
New smart home products are introduced every day and prices are continuing to drop on technology that's been out for a while. But before you buy a specific product, be sure to read reviews from other homeowners and tech experts. If it's not easy to use or install, you may be better off waiting until the next generation comes out. Or save your money and wait patiently for the hover device.
Click here for more great articles from our Learning Center
The information contained in this page is provided for general informational purposes only. The information is provided by Foremost® and while we endeavor to keep the information up to date and correct, we make no representations or warranties of any kind, express or implied, about the completeness, accuracy, reliability, suitability or availability with respect to the articles or the information, products, services or related graphics, if any, contained in the articles for any purpose. The information is not meant as professional or expert advice, and any reliance you place on such information is therefore strictly at your own risk.