What to consider when making mobile home improvements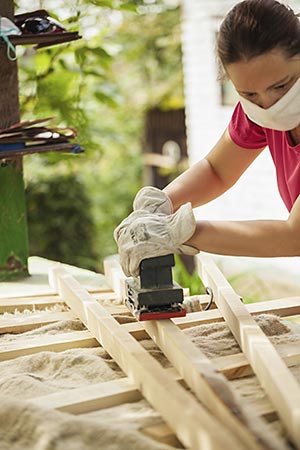 What's possible where you live?
Before you dive into a mobile home addition of any kind, take a close look at what's possible. Start with taking a walk around your neighborhood to see what others have done. Then check if your community or park has any restrictions on what can be added to your home. And consult with a contractor or local official that understands construction guidelines in your state and what's required under the federal Manufactured Home Construction and Safety Standards.
What does it take to do it right?
Adding on to a mobile home is more complicated than most people think. You need to pay special attention to how your home is constructed and supported. For example, let's consider a simpler addition such as a deck. You could attach it directly to the side of your home and use posts to support the other end, but this could potentially lead to problems. If your home isn't supported by concrete footings placed beneath the frost line, it could move if the ground shifts, and the deck could break away. That's why people with homes on cinder blocks often add decks that meet the side of their homes, but aren't directly connected. Posts support the deck separately. If the home shifts, the deck won't move with it.1
Will it sell?
Selling your home may not be top of mind, but it's something to consider. Down the road you may decide to buy a larger home or hit the road in an RV. That's why it's good to take a look at recent sales of mobile homes in your area. It will help you determine whether or not it's worth putting money into an addition or other improvements.
Will it void my warranty?
If your mobile home is still under warranty, read it thoroughly or call the company before you begin your project. Find out if the warranty has any restrictions on additions or other improvements.
From start to finish, home additions or renovations take much longer than a television hour. But if you take time to determine what's best for you and prepare for the process, it can be just as exciting and rewarding. If you decide to move forward with your project, photograph your experience and tell Foremost about it. Post your story on the AARP® Motorcycle & Mobile Home Insurance Program from Foremost Facebook page.
1. "Adding on to Your Manufactured Home." Web log post. Mobile Home Repair. N.p., n.d. Web. Dec. 4, 2015.
Click here for more great articles from our Learning Center
The information contained in this page is provided for general informational purposes only. The information is provided by Foremost® and while we endeavor to keep the information up to date and correct, we make no representations or warranties of any kind, express or implied, about the completeness, accuracy, reliability, suitability or availability with respect to the articles or the information, products, services or related graphics, if any, contained in the articles for any purpose. The information is not meant as professional or expert advice, and any reliance you place on such information is therefore strictly at your own risk.