Avoid these common driving mistakes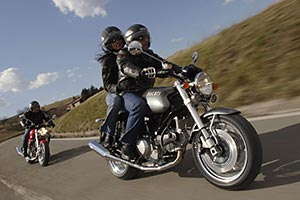 Riding a motorcycle in a world full of cars and trucks can be dangerous. And being the one on the motorcycle, you're much more likely to be seriously injured than the other driver. Luckily, there are ways to help prevent the most common types of crashes and stay safe.
Stay out of blind spots.
Car drivers already have a hard time spotting motorcyclists when they're visible, but ride on the side of another vehicle and you'd better just assume that they can't see you. If you do find yourself in a potential blind spot, move quickly and safely out of it, being careful not to land right in another vehicle's blind spot while doing so.
Don't be first to cross an intersection.
Just because a light turns green doesn't mean it's safe to cross. If you're in the front of the line at an intersection, hold back an extra few seconds to make sure the opposing lanes are actually stopped.
Keep to the side of the lane.
Not only does this make it less likely you'll be hit head on, but it allows more room for those passing from behind or next to you. It also keeps you farther away from the center of the lane where oils and fluids may drop from other vehicles, decreasing your traction.
Pass with caution.
Be sensible about the distance required to pass and move safely back into your lane. Even though the car in front of you may be going under the speed limit, wait until you have enough time and road to go around.
Watch for vehicles making blind turns.
It happens far too often. Cars are backed up in one lane leaving the other lane open. Then someone at the front of that backed up lane stops to allow a vehicle from the opposing lane to turn left. The opposing vehicle can't see well past the line of cars and guns it to get across. A motorcyclist coming down that open lane will likely go unnoticed. In short, you have to think about the mistakes of other drivers and do your best to avoid them.
These and any number of other things can occur every time you go for a ride. The more you ride, the more experience and awareness you will gain. It may also help to remember the following:
Remain calm.
Mistakes aren't something you can allow and the more you let things get to you, the more likely it is that you'll do something you didn't mean to do. If someone upsets you, take a deep breath and keep your cool.
Think fast.
It's important to take in several things at once. Keep your eyes up, scan the road and monitor the behavior of other drivers. This awareness will keep you out of trouble before it has a chance to happen.
Be patient.
It's not worth the risk to beat a red light, rush around a corner or get past that slow car before the double yellow lines start. Keep a respectable following distance and wait for the right opportunities. Having patience usually leads to better decision making.
Continue to practice.
Being an experienced rider doesn't come automatically. If it's been a while since you last rode, you may have forgotten some important skills. The best way to improve is to put in some riding time.
Click here for more great articles from our Learning Center
The information contained in this page is provided for general informational purposes only. The information is provided by Foremost® and while we endeavor to keep the information up to date and correct, we make no representations or warranties of any kind, express or implied, about the completeness, accuracy, reliability, suitability or availability with respect to the articles or the information, products, services or related graphics, if any, contained in the articles for any purpose. The information is not meant as professional or expert advice, and any reliance you place on such information is therefore strictly at your own risk.