Avoid Autumn Road Hazards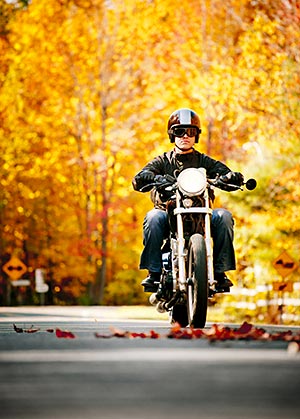 As autumn sets in, so do additional road hazards. Whether you're a novice or a skilled motorcycle operator, there will be times when road hazards test your handling abilities.
Falling leaves can present an unassuming risk. Drivers may be distracted looking at the bright colors, so be sure to keep your distance from other vehicles. Also, as the leaves accumulate, the roadway can become slick. Whether wet or dry, driving through stacks of leaves can reduce traction, making it difficult to stop. A simple reduction in speed and awareness can make all the difference.
Deer are another challenge this time of year. As crops are harvested and farm equipment is run through fields, deer are being pushed into other areas, and in many cases, closer to the road. Fall is also breeding season which means they'll be running more actively than normal. Your best defense is to stay aware, particularly while in rural areas. Areas where crops or timber are close to the road present the greatest danger. Scan the roadway and just off the shoulders and be ready to react if needed.
Autumn also brings the onset of frost and ice. While midday temperatures may be warm, they could drop to freezing overnight. Watch for frost on the roadway in the early morning hours, with particular attention to bridge decks and other elevated surfaces, railroad crossings and shady areas that are blocked from the sun. Even if there hasn't been any rain or snow, ice can form on the roads very quickly from a number of sources.
If you take steps to identify and react quickly and calmly to the hazards you encounter, you are more likely to come out of a potentially dangerous situation unscathed. Nothing can take the place of practice when you're riding a motorcycle, so spend some time trying to avoid obstacles in a safe environment. Take a motorcycle safety course to prepare yourself for what you could face.
Click here for more great articles from our Learning Center
The information contained in this page is provided for general informational purposes only. The information is provided by Foremost® and while we endeavor to keep the information up to date and correct, we make no representations or warranties of any kind, express or implied, about the completeness, accuracy, reliability, suitability or availability with respect to the articles or the information, products, services or related graphics, if any, contained in the articles for any purpose. The information is not meant as professional or expert advice, and any reliance you place on such information is therefore strictly at your own risk.