Store your motorcycle safely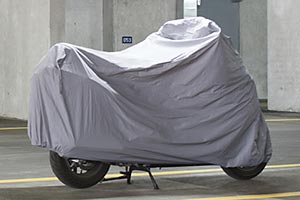 Your bike is important to you, so be sure to keep it clean and safe while the weather is cold. Wherever you choose to store it for the season, remember these tips.
Gas it up
Top off your tank and add the recommended amount of fuel stabilizer. Stabilizer prevents your fuel from breaking down and producing a brown residue that can coat your carburetor. Run your engine for a few minutes to circulate the treated gas. Since gas is flammable, do not store your bike near open flames, pilot lights, sparks or motors.
Change the oil
Warm your engine to operating temperature, and then turn it off. Change the oil and restart the engine to circulate the new oil. Used oil that sits in your bike for several months may become corrosive and damage your bike's parts.
Check the coolant
Since bikes are not used in freezing temperatures, many riders overlook the use of coolant. Use a floating-ball device to check if your coolant level is sufficient to resist freezing. If it's low, add according to the manufacturer's directions.
Charge the battery
Remove the battery and put it on a charger. Store it at a temperature above 32 degrees Fahrenheit and trickle-charge it once a month. If you are able to start and run the bike once a month, you may want to leave the battery in the bike and just disconnect the negative cable end. Run the bike to a normal operating temperature. If this is not possible, crank the engine two or three times.
Remember the tires
If possible, store your bike with the tires off the ground. If you can't do this, make sure the tires are properly inflated, set the bike on its center stand, and rotate the front tire periodically to avoid flat spots. If you don't have a center stand, use wood blocks to lift the tires off the ground.
Clean and cover it
Give your bike a good wash and wax, and then cover it with breathable cloth. This will keep dirt and dust from settling on your bike and the wax helps repel moisture which causes rust.