Spring home inspection checklist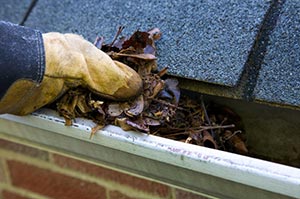 Spring is a good time to inspect your home and property and make any necessary repairs or preparations for the summer months. Addressing minor issues now will prevent them from turning into major repairs. To help you cover all the bases, we've come up with a basic checklist.
Start with your roof. Clear off any debris and clean the gutters. If you have a shingled roof, look for missing or loose shingles and repair them. If you have a metal roof, check the coating and re-coat if necessary. A metal roof needs a new coating every two years.
Check nearby trees to see if they pose a threat to your roof. If so, trim branches or remove the trees.
Inspect fences, railings and skirting. Plan repairs as needed. Skirting keeps pests out from under your home and keeps your home cooler in the summer. Be sure the skirting is well ventilated and allows air to circulate freely.
Check entrance steps and make sure they are stable and in good condition. If your steps are concrete, seal them with acrylic or silicone-based concrete sealer. If they're wooden, check if they need to be stained or water sealed.
Pick up any debris on your lawn and rake mounds of gravel or dirt that may have accumulated from snow removal. Piles of debris left on the lawn can kill the emerging spring grass beneath it and also provide a nesting site for slugs and insect pests.
Inspect bushes, shrubs and other landscaping and trim or remove if necessary.
Check your home's siding and give it a good wash. You can use household detergent or a cleaning compound specific for your siding material. Wash from top to bottom, rinse and then dry with a towel from the top down.
Inspect your windows and screens. Repair any damaged screens and wash windows. If quick-fix repairs won't do the job, consider replacements. There are many new energy-efficient windows in a variety of styles made for mobile homes.
Check the underside of your home for damage, debris collection or animal nesting situations and make needed repairs.
Repel pests by filling cracks on exterior lumber with caulking or asphalt roofing cement and replace damaged lumber with treated wood. Seal and caulk windows and doors and repair holes in screens. Don't use poison outside as you could inadvertently kill pets.
Click here for more great articles from our Learning Center
The information contained in this page is provided for general informational purposes only. The information is provided by Foremost® and while we endeavor to keep the information up to date and correct, we make no representations or warranties of any kind, express or implied, about the completeness, accuracy, reliability, suitability or availability with respect to the articles or the information, products, services or related graphics, if any, contained in the articles for any purpose. The information is not meant as professional or expert advice, and any reliance you place on such information is therefore strictly at your own risk.