What to Do Before Storing Your Bike This Winter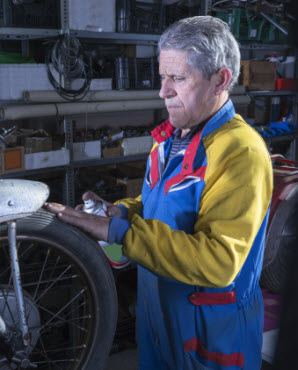 These storage prep steps will help make sure your bike is ready to hit the open road on that first sunny spring day.
Give It A Good Wash & Wax.
Clean it up to remove anything on chromed or painted surfaces that could turn into annoying eyesores after a few months. Literally tuck it in under a breathable cloth cover to keep dirt and dust from settling on it.
Top Off Your Tank.
Avoid condensation or even rust inside the tank by adding some fuel conditioner. Run the engine a few minutes to get the stabilized gas through your carburetor. This helps prevent formation of compounds that can gum up your carb's jets and turn to shellac, which is not a pretty picture when you're ready to crank it over in spring.
Change The Oil.
This is important because corrosion can occur if used oil sits in your crankcase all winter causing more damage to undo next spring when all you really want to do is ride.
Check The Coolant.
Many riders forget about this because they don't ride in the winter and assume they really don't need antifreeze. Unfortunately, coolant can easily freeze during storage unless it's protected from winter's icy ravages. Use a floating ball tester to check the protection level and top up with a mix that will get it through even extreme lows, especially if your storage isn't heated.
Keep Your Battery Charged Up.
If you're in the habit of running the engine at least once a month during winter, disconnect the negative terminal to prevent it from draining until it's dead as a doornail. Then reconnect it when you're ready to start it up. If you don't run it at all during the winter, remove the battery and store it in a spot where it won't freeze. Put a trickle charger on it once a month because a battery that sits will inevitably discharge.
Take Care Of The Tires.
If you can store your bike off the floor, that will help you prevent flat spots in your tires. If you can't store it off the ground, periodically give the tires a partial rotation to keep them in great shape all the way around. Checking for proper inflation every so often also helps.
Doing all of these things now means quick and easy spring maintenance to get you back on the road!
Check out this info on riding during winter months

Will you be on the road this winter with your bike? If so, be sure to check out this article on cold weather motorcycle riding.
Click here for more great articles from our Learning Center
The information contained in this page is provided for general informational purposes only. The information is provided by Foremost® and while we endeavor to keep the information up to date and correct, we make no representations or warranties of any kind, express or implied, about the completeness, accuracy, reliability, suitability or availability with respect to the articles or the information, products, services or related graphics, if any, contained in the articles for any purpose. The information is not meant as professional or expert advice, and any reliance you place on such information is therefore strictly at your own risk.